Clearwater Beach in Florida is a wonderful place for a vacation. There are so many great things to do in Clearwater Beach and the surrounding area. Enjoy the famous beach, spot exotic animals and day trip an island away. A Clearwater Beach escape has all you need to unwind both body and mind.
This travel site can exist thanks to compensation from advertising and affiliate links. Find out more here.
America's best beach
Clearwater Beach is located on a barrier island on the Gulf Coast of Florida. The main Clearwater Beach attraction is the white and sandy beach that stretches for about 2.5 miles (4 km) on the coast.
The beach consistently gets reviews as one of the best beaches in both Florida and America. People just love to visit Clearwater Beach.
And conveniently so Clearwater Beach is just about 2 hours away from Disney World in Orlando. So the two are a great pair to combine for a dream vacation.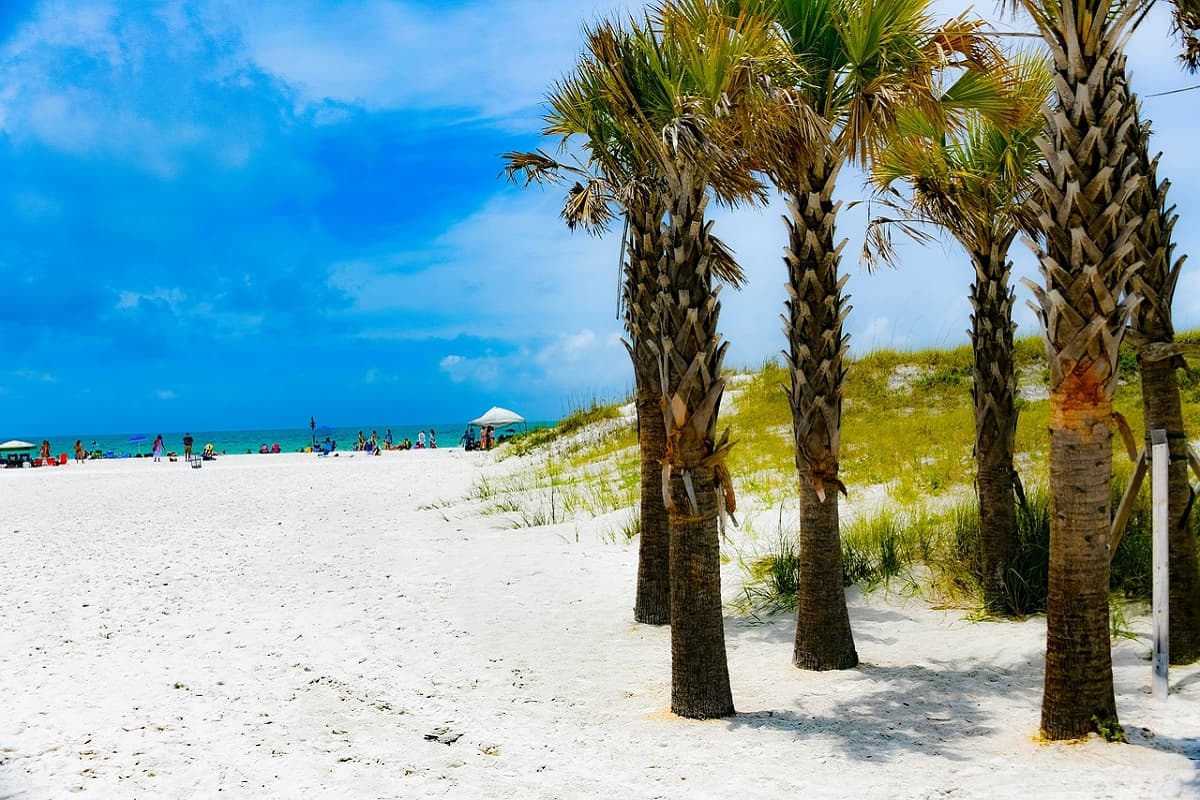 Why Clearwater Beach is so popular
First of all Clearwater Beach has that super-fine and sugar white sand that you wish your local beach had. And that the beach is very well maintained further adds to the picturesque look.
Secondly the water is generally calmer on the Gulf Coast than on the Atlantic side of the state. As it's more protected the waves simply tend to be smaller. Thanks to that the whole family can enjoy a Clearwater Beach vacation.
If you visit Clearwater Beach you'll also notice that you have plenty of restaurants, cafés and bars right at the beach. When visiting Clearwater Beach you don't need to move around a lot if you don't want to. You have all you need in one place in Clearwater Beach.
In other words a Clearwater Beach vacation delivers the whole package. And what could be better for a beach escape than white sand, calm waters and great convenience?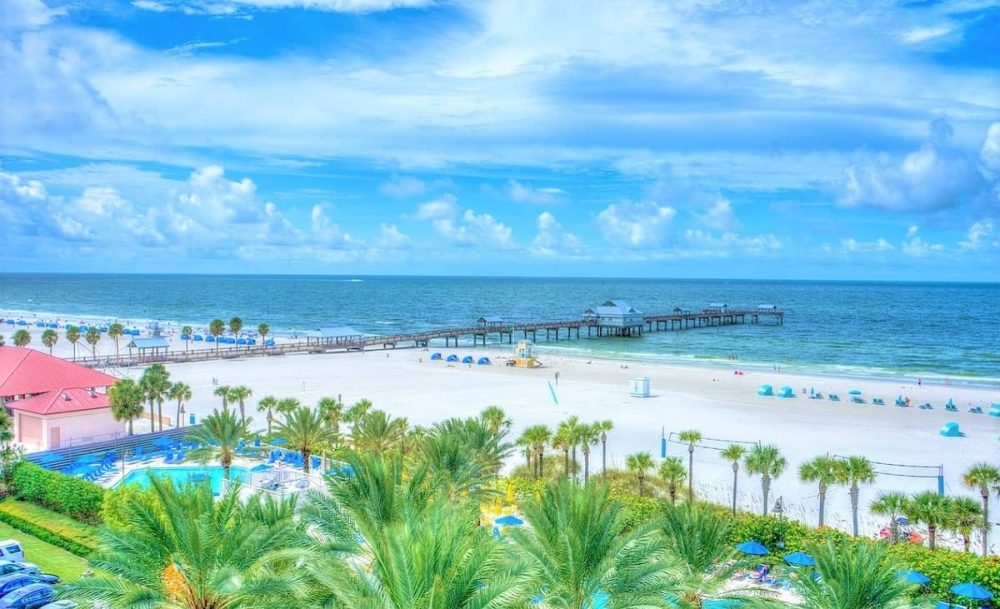 Spot the exotic local animals during your escape to Clearwater Beach
Loggerhead turtles nest and hatch along the beaches of western Florida from May through October. That means that the area around Clearwater Beach is prime real estate for turtles.
It also means that visitors need to be careful to not disturb the nesting and hatching turtles. But if you're lucky during your escape to Clearwater Beach you could encounter turtles and dolphins in the wild.
To improve your chances a fun thing to do when visiting Clearwater Beach is to take a dolphin tour on the water. Various tour companies take you out on the Gulf on Mexico and up close with the impressive Florida marine life.
Day trip to the untouched Caladesi Island
If you want a break from the sometimes busy Clearwater Beach and go to somewhere more remote, but still close by, a trip north to Caladesi Island is a great option when visiting Clearwater Beach. On Caladesi Island it's easy to find your inner peace.
Caladesi Island holds extreme beauty just like Clearwater Beach but with much fewer people sharing it. On the untouched Caladesi Island you have all the space you could ever ask for.
The pristine island is a great place to just relax on the beach or if you're up for it explore the island's interior. To get to Caladesi Island you need to travel on the water or make a fairly long walk from the northern end of Clearwater Beach.
Another beautiful beach spot in Sand Key Park
A pro with the Gulf Coast of Florida is that a beautiful beach never is far away. And just a stone's throw away from Clearwater Beach in the southern direction you find another stunning beach in Sand Key Park.
Sand Key Park is less than 10 minutes away from Clearwater Beach and a great option with easy accessibility for the days you want to beat the crowds. At Sand Key Park you can feel closer to nature and enjoy the peacefulness as the pelicans swing by.
The best sunset spot in town
A gorgeous place to go to at any time of the day is Pier 60 in Clearwater Beach. The 1,080-foot long iconic pier beautifully stretches out into the blue Gulf of Mexico. And from the Clearwater Beach pier you get a great view over the dreamy Clearwater Beach surroundings.
Although Pier 60 always is a great spot to visit it peaks during the last hours of the day. Then it's not as hot as in the middle of the day which makes the pier a more comfortable walk. And the surroundings just get even more pretty as the sun slowly starts to set on the western horizon.
Find a hotel for your Clearwater Beach vacation, FL
Use the booking tool below to find the perfect places to stay in Clearwater Beach for your vacation. Browse the map for options in various areas, or click on the search button to get all options listed.
A beachy escape to Clearwater Beach FAQ
Here you find the answers to some frequently asked questions about visiting Clearwater Beach, Florida.
Is Clearwater Beach a good place to vacation?
Clearwater Beach has been named the best beach in the United States numerous times. In Clearwater Beach you find sugar white sand, a good variation of restaurants and activities for all ages to participate in.
Can you swim in Clearwater Beach in the winter?
Generally the water temperature in Clearwater Beach drops to the upper 60°F (20°C) region in December. From then the temperature drops further to the middle 60°F (18°C) range until spring when it starts to heat up again.
How far is it from Clearwater Beach to Disney World?
From Clearwater Beach to Disney World in Orlando it's 92 miles (148 km) and around 2 hours by car.
Continue reading
Amazing places to visit in Orlando >
Orlando to Key West itinerary >
The ultimate Gulf Coast road trip >