Prepare for a Denver to Yellowstone National Park road trip taking you from the modern capital of Colorado to the heart of the Wild West and Wyoming's enchanting nature. White mountains, vast grasslands, deep lakes, gurgling rivers and roaming wildlife — Yellowstone's and Grand Teton's unique nature make for unforgettable moments. But don't miss out on the array of charismatic Wild West towns along the way, complementing the big scenery with captivating human stories.
We can exist thanks to compensation from advertising including affiliate links. Learn more ›
Total distance: 1183 mi / 1903 km
Total driving time: 21.5 h
Route info: This Denver to Yellowstone road trip itinerary is perfected for a summer drive, when all park roads and entrances are open. During the cooler, snow-covered months (typically early November to late April), only the North Entrance of Yellowstone National Park is open for cars, meaning that adjustments to the itinerary need to be made if you plan an off-season drive. Regardless of when you go, it's wise to check the current Yellowstone road status before traveling.
Key guide: Check out our ultimate guide on where to stay in and around Yellowstone National Park.
1. Denver, CO – Begin the road trip to Yellowstone National Park
Denver, aptly nicknamed the Mile-High City, has an elevation ranging between 5,130 and 5,690 feet (1,560 to 1,730 m). If you're not a Denver local who want to take off right away, make the most of your visit — this is a fun city!
Amid breathtaking surroundings, Red Rocks Amphitheater claims to be the world's only naturally occurring amphitheater that's acoustically perfect. Attend a live concert at Red Rocks to be blown away ahead of the Denver to Yellowstone road trip.
Any beer lovers out there? Colorado is one of the US states with most breweries per capita, with Denver called the "Napa of Beer". Join a guided brewery tour and learn all there's to know about the art of brewing; Coors Brewery is the city's largest beer producer, but there're lots of smaller ones too if you prefer not to go mainstream.
A fun and free thing to do before you start the Denver to Yellowstone National Park road trip is to check out Denver Capitol Building, modeled after the US Capitol Building in Washington D.C.
On the building's east side, climb to the 13th step of the stairs, set precisely one mile above the sea level. Although both the 15th and 18th steps previously have been regarded as the benchmark level, a 2003 investigation once and for all concluded that the 13th step is the one.
Where to stay
Stay in Denver's vibrating downtown area for effortless city sightseeing. However, your hard-earned dollars last significantly longer within an easy drive.
Additional stop: Rocky Mountain National Park is a popular addition to the Denver to Yellowstone road trip, adding less than 2 hours to the itinerary total. For this detour, you find convenient places to stay near Rocky Mountain National Park in the gateway town of Estes Park.
2. Casper, WY – Make a Denver to Yellowstone stop on the Oregon Trail
Driving distance: 277 mi / 446 km
Driving time: 4.5 h
It's easy to motivate a stop in Casper, Wyoming. The convenient location, halfway between Denver and Yellowstone, and majestic backdrop create an opportunity too good to pass on.
Sitting at the base of Casper Mountain, Casper offers quintessential Central Wyoming scenery. The untroubled North Platte River cuts Casper in two, and mountains are visible from wherever in town you are.
If you run into a traffic jam in the Casper area, it's most likely because of wildlife crossing the road. This peaceful western setting feels a world away from the often hectic American lifestyle.
To increase your knowledge about Casper, Wyoming and the historic exploration of the West, spend an hour or two at Casper's National Historic Trails Interpretive Center.
In fact, just like you're going into the Wild West through Casper on your way from Denver to Yellowstone, the historic American westward expansion once passed through right here. The center's permanent exhibits — the Oregon Trail, Mormon Pioneer Trail, California Trail and Pony Express Trail — teach all about it.
Thanks to interactive displays, visiting the National Historic Trails Interpretive Center is rewarding both for adults and younger travelers on a Denver to Yellowstone family road trip.
Where to stay
The predictable big-chain hotels rule in Casper. But don't worry: This ultimate Denver to Yellowstone itinerary offers more than enough excitement.
3. Cody, WY – Embrace Wild West life on the Yellowstone road trip
Driving distance: 214 mi / 344 km
Driving time: 3.5 h
The definition of a Wild West town, Cody is situated only 1 hour from the beginning of Yellowstone National Park. Welcome to the final frontier, a place where locals wear cowboy boots and hats.
Cody is named after its famous founder William F. Cody — you may know him as Buffalo Bill — who passed through Wyoming in the 1870s and fell in love with the beautiful setting.
Embrace the Wild West at the town's proud Buffalo Bill Center of the West, consisting of five museums under one roof. Indulge in all there's to know about the founder of Cody and fascinating insights about the Wild West.
This is an outstanding complex; allow several hours (maybe a whole day if you're a history buff).
With the history covered, what about some rodeo on your Denver to Yellowstone road trip? There's no better place for it than Cody.
Called the rodeo capital of the world, Cody presents nightly summer rodeo. The rodeo venue sits with a beautiful mountain backdrop, so get there well in time to fully soak up the Wild West atmosphere.
Where to stay
Buffalo Bill himself would have been proud of the lodging options in Cody. This is a town with everything from luxury hotels to cozy inns — offering Wild West ambience, of course.
Can Cody be your Yellowstone base? When you arrive at Yellowstone East Entrance (1 hour from Cody), 45 minutes of driving remains until you actually reach the park's southern loop. Therefore, it's best to treat Cody and Yellowstone as entirely separate destinations. With Cody as your Yellowstone base, the drives in and out of the park easily get exhausting.
Route info: This road trip (if you don't opt for the Beartooth Highway extension below) now continues from Cody directly into Yellowstone National Park via the (closest) East Entrance. It's 80 miles (129 km) and two hours from Cody to Yellowstone Lake, where you find some of the best in-park lodging available.
Additional stop: Uniquely situated at the start of the legendary Beartooth Highway, the picturesque-like-few Red Lodge is a highly rewarding additional Denver to Yellowstone National Park stop. Spend a night at the lovely Alpine Lodge; then drive the entire Beartooth Highway (with lots of breaks for photos) and enter Yellowstone via the Northeast Entrance. This detour adds 115 miles (185 km) and 2.5 hours to the itinerary total, compared to if you take the more direct East Entrance route from Cody to Yellowstone Lake.
4. Yellowstone National Park, WY – Marvel at spectacular nature in America's first national park
Driving distance: 80 mi / 129 km
Driving time: 2 h
Yellowstone National Park became the first national park in the US the 1st of March in 1872. Visitors come from near and far for its dense forests, vast valleys, gurgling rivers, captivating thermal activities and exciting wildlife.
Luckily, Yellowstone National Park is so big that there's room for everyone to enjoy the park. By size, Yellowstone is so huge — 3,500 square miles — that it's even larger than some small states (Rhode Island and Delaware).
So even though the main roads of the park tend to become crowded every summer, it's still possible to find your very own Yellowstone slice if you don't mind a hike.
A highlight in the park and one of the reasons to visit Yellowstone National Park is the hot springs and geysers. Around 60% of the world's hot springs and geysers are inside Yellowstone — that's mind boggling.
Of all these hot springs, the Grand Prismatic Hot Spring is a must for the Denver to Yellowstone road trip itinerary. It's the most photographed spring in the park, and its huge size and bright colors are breathtaking.
Another mandatory thermal spot is the Old Faithful geyser, faithfully erupting once every one or two hours. If you just missed a performance, you don't need to wait long for the next spectacular show.
Expect to encounter a lot of wildlife during your Yellowstone National Park visit. This is the home to 67 mammal species, including the black bear, grizzly bear, gray wolf, red fox and bison.
Bison jams happen all the time in Yellowstone, so make sure to add extra driving time for that. In Lamar Valley, the bison love to roam freely, and they don't mind crossing the road at all.
Where to stay
Considering Yellowstone's enormous size, it's advantageous to stay within Yellowstone National Park. There are nine lodges inside Yellowstone National Park, but keep in mind that they frequently sell out in advance.
Route info: Distances are long when you travel Wyoming, and it's 99 miles (159 km) from lodging at Yellowstone Lake down to Jackson. But it's only 10 miles (16 km) from Yellowstone's southern end to Grand Teton's northern end. These are sister parks, and visiting both of them on the same trip is highly recommended.
5. Grand Teton National Park, WY – Fall in love with the towering Teton Range
Driving distance: 99 mi / 159 km
Driving time: 2.5 h
In Grand Teton National Park, the Grand Teton mountains rise up from lush grasslands like granite towers, reaching a staggering 13,775 feet (4,198 m). This park may be Yellowstone's little sister, but the scenery is nothing but big.
Offering gorgeous photo opportunities, the rivers and lakes of Grand Teton National Park beautifully reflect the enormous heights of the mountains.
Get on that water for unobstructed views and unmatched peacefulness. Jackson Lake, 15 miles (24 km) long, and Jenny Lake, 2.2 miles (3.5 km) long, are excellent spots for canoeing, kayaking and stand-up paddleboarding.
Prefer something less demanding? You can also take a scenic ride with the Jenny Lake shuttle boat.
To enjoy more scenic views and some history, make your way over to the Mormon Row Historic District. Here, settlers from Idaho established a small community called Grovont in the 1890s.
Today, especially two of the since long abandoned Mormon Row buildings stand out: The Andy Chambers Homestead and the Moulton Barns. Life may have been tough here — especially during winter — but that amazing backdrop of the Teton Range is one of a kind.
Where to stay
You have two main options for where to stay when visiting Grand Teton: Book one of the seven lodges inside the park, or opt for one of the nearby communities. To the south, the atmospheric Jackson is an excellent pick for those who prefer a complete town with an array of options for sleeping, dining and shopping.
Is it Jackson or Jackson Hole? Both are correct: Jackson Hole refers to the entire 55-mile (89 km) long valley, while Jackson simply is the cute town at the valley's southern end.
Additional stop: The tiny town Dubois is conveniently located on the way from the parks back to Denver. Dubois is less than 2 hours from Jackson and only around 1 hour from Grand Teton's eastern Moran Entrance Station; that the authentic cowboy town is positioned so close to the park allows for more time in Grand Teton National Park.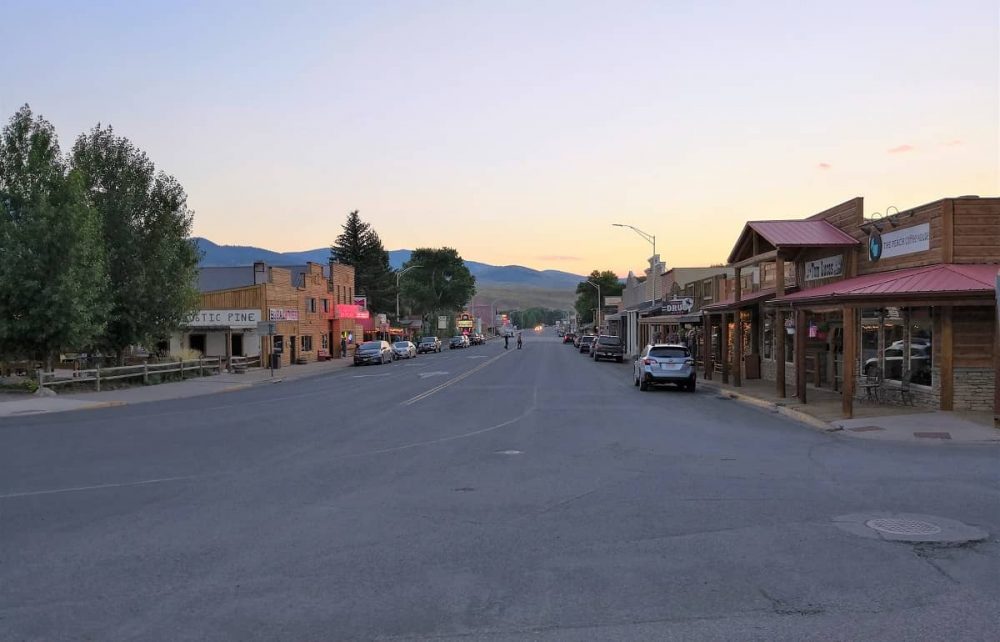 6. Lander, WY – Recharge where civilization (really) begins
Driving distance: 160 mi / 257 km
Driving time: 3 h
After driving through a few tiny towns, including Dubois, the more sizable Lander welcomes you back to civilization. While Lander by most standards still is a small city, it has those amenities that you may have missed.
Lander's Main Street is framed by appealing restaurants. A popular choice, the Gannett Grill provides yummy American fare accompanied by a friendly Wild West atmosphere as perfect for a casual meal as for a cold beer (or two).
Haven't had enough of nature quite yet?
Lander, called the town where the rails end and the trails begin, is an outdoor playground. A natural treasure just a few miles south of Lander, Sinks Canyon State Park sets a gorgeous scene for hiking, mountain biking and rock climbing.
Where to stay
There are several appreciated places to stay on or near Lander's Main Street, the area's commercial hub.
7. Laramie, WY – Savor a final dose of the Old West on the Yellowstone road trip
Driving distance: 224 mi / 360 km
Driving time: 3.5 h
Laramie, founded in 1868, brims with western history. Stroll Laramie's historic downtown area, dotted with buildings from the late 1800s and early 1900s, to best soak it up.
This is a unique setting — on the National Register of Historic Places — to grab a bite, sit down for coffee, explore independent stores (possibly for a Wild West trinket) or just enjoy a walk.
Keep an eye out for Laramie's Historic Carnegie Library, erected in 1906 and funded by industrialist Andrew Carnegie. Today, the elegant red-brick building houses city offices; when the library moved out in 1981, residents passed the books one by one to its new location.
When you, sipping on a coffee, uncover Laramie, it's easy to forget, but not all about the Wild West is happy.
The 1872 Laramie's Territorial Prison used to accommodate feared and desperate Wild West villains. Most notably, the outlaw Butch Cassidy was held here. Tour the grounds of the former prison site to learn more about the darker side of Wyoming's history and the Wild West — an eye-opening final stop on the Denver to Yellowstone road trip.
Where to stay
University of Wyoming calls Laramie home; many of the towns's top hotel are located adjacent to the proud institution.
8. Denver, CO – Completing the Yellowstone road trip loop
Driving distance: 129 mi / 208 km
Driving time: 2.5 h
After a spectacular Wyoming adventure, it's time to round off the Yellowstone National Park road trip. The final 129 miles (208 km) takes you back to where it all started, Denver.
Yellowstone road trip itineraries with days
For the ultimate Yellowstone National Park road trip, it's recommended to have 2 weeks or more. If you have less time, you can do a pacier Yellowstone road trip with longer days on the road.
Ultimate Yellowstone road trip itinerary (2 weeks)
Day 1-2: Denver
Day 2-3: Casper
Day 3-4: Cody
Day 4-9: Yellowstone NP
Day 9-12: Grand Teton NP
Day 12-13: Lander
Day 13-14: Laramie
Pacy Yellowstone road trip itinerary (1 week)
Day 1: Denver
Day 1-2: Casper
Day 2: Cody
Day 2-5 Yellowstone NP
Day 5-6: Grand Teton NP
Day 6-7: Lander
Day 7: Laramie
Denver to Yellowstone National Park road trip FAQ
You find the answers to some frequently asked questions about the Denver to Yellowstone National Park road trip below.
How long is the Denver to Yellowstone road trip?
This ultimate road trip from Denver to Yellowstone National Park and back again through Grand Teton National Park is 1183 miles (1903 km) long. Driving the entire loop takes 21.5 hours, not including any stops along the way.
How far is it from Denver to Yellowstone National Park?
The suggested route from Denver to Yellowstone National Park is 571 miles (919 km) long with a driving time of 10 hours. The route for the way back to Denver through Grand Teton National Park is slightly shorter.
Where should I stop between Denver and Yellowstone?
The main stops included on the Denver to Yellowstone itinerary are Denver, Casper, Cody, Yellowstone NP, Grand Teton NP, Lander and Laramie. You also find several appreciated additional stops along the way.
What is halfway between Denver and Yellowstone?
Casper, Wyoming, is conveniently located halfway between Denver and Yellowstone National Park.
How far is Jackson Hole from Denver?
From Denver to Jackson Hole, it's 502 miles (808 km) by car, which consumes 8.5 hours.
How many days do I need to take the Yellowstone road trip?
For the ultimate Yellowstone National Park, it's recommended to have 2 weeks or more. Remember that Yellowstone on its own is bigger than some small states. But if you have less time, you can, of course, take a pacier road trip with less time in the great parks.
Make the most of every trip with our newsletter delivered to your inbox.