Fort Myers in Florida could be the perfect weekend, week or even month long getaway. There are so many things to see and do during a Fort Myers Beach vacation. Cruise the waters, visit the Edison and Ford estates and of course don't miss the beautiful beaches.
Sorry about the disclaimer. We just want to let you know that this site can exist thanks to compensation received from advertising and affiliate links. Read the full disclosure here.
Check out Times Square and the Fishing Pier
Fort Myers Beach has its own Times Square. There, on the northern part of the island, you find a good selection of restaurants and even some shopping.
The area of and adjecent to Times Sqare is the more lively part of Fort Myers Beach. Going further south means more peacefulness during your Fort Myers Beach vacation.
At Times Square you also find the Fishing Pier. The beautiul view of Fort Myers Beach from the pier makes it well worth the walk.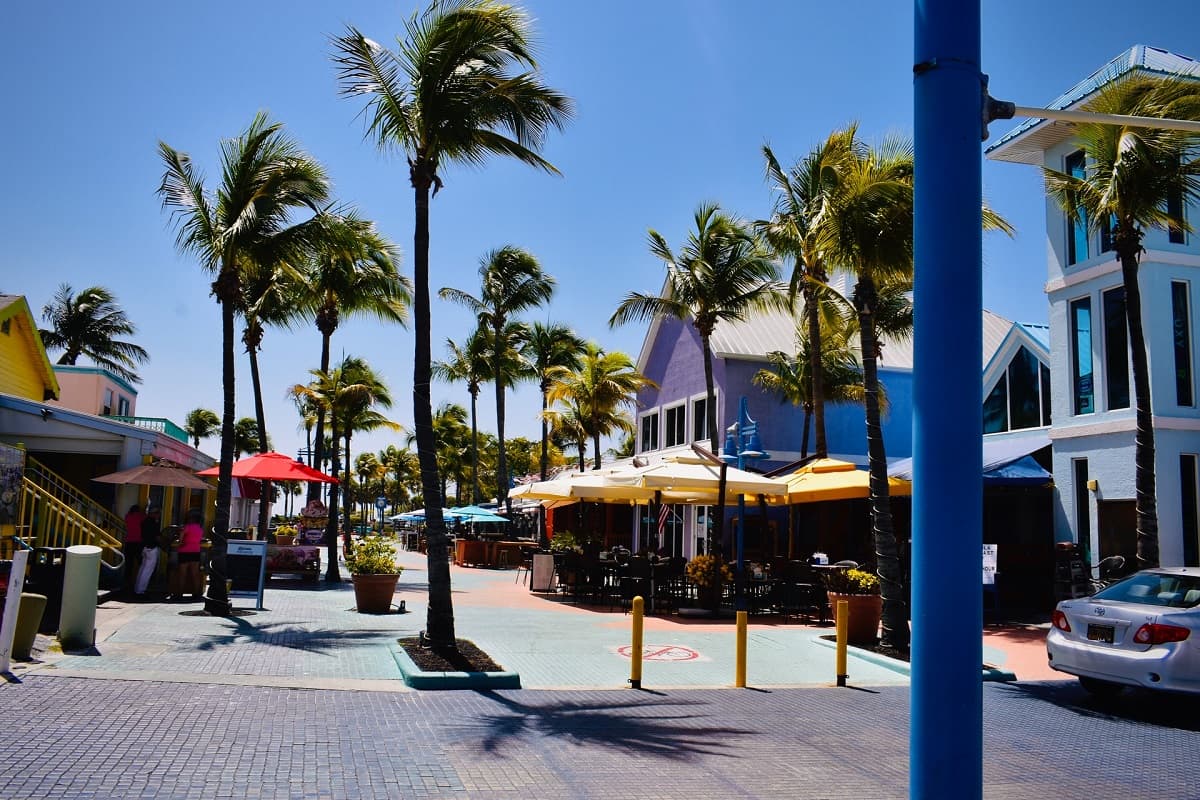 See the shelling capital of the world
Sanibel Island is not far away from Fort Myers Beach. It only takes around 30 minutes for you to get there. And on Sanibel and neighboring Captiva you find world class shelling.
Sanibel Island is even called the "Shelling Capital of the World" for its optimal shelling conditions. Explore all the variations of shells as you enjoy the relaxing lifestyle on Sanibel and Captiva on your vacation to Fort Myers Beach.
Read more: Fun things to do on Sanibel Island, Florida >>
Cruise the waters of the area on your Fort Myers Beach vacation
A great way to see and understand the Fort Myers area during your Florida beach vacation is to set sail and discover the waters in the vicinity.
Why not go on a boat that takes you to islands you can't reach by your car? Cabbage Key and Cayo Costa State Parks are popular and extremely beautiful places to visit.
Or, maybe a sunset or dolphin cruise is what you really want on your Fort Myers getaway?
Experience Edison and Ford Winter Estates
At this point you have probably come to the conclusion that you could live a pretty decent life in Fort Myers. Thomas Edison and Henry Ford thought the same and purchased properties in Fort Myers where they escaped the cold and spent their winters.
Today, the properties contain a museum and a beautiful botanical garden. And to visit them is one of the best things to do in Fort Myers. A highlight is the Edison Botanic Research Laboratory, with original equipment and machinery.
Bring your lover to Lover's Key
Fort Myers Beach and Sanibel & Captiva Island are not the only beach gems in the area. Just make a short ride south and you get to the beach paradise Lover's Key State Park.
Here you don't have the liveliness of Fort Myers Beach. Instead, it's the perfect place for really lazy and quiet beach days as you recharge your batteries during your Fort Myers Beach vacation.
Read more: Lovers Key Beach is as attracting as ever >>
Enjoy the spectacular Fort Myers Beach sunset
Being on the west coast of Florida, Fort Myers Beach offers beautiful sunsets. And the perfect ending to every day during your Fort Myers Beach getaway is to see it from the beach, or from the water as you take a sunset cruise. Either way, every sunset is something special when you spend it on Fort Myers Beach.
Read more: A beach day on Fort Myers Beach, Florida >>
Find a hotel in Fort Myers Beach
Use the booking tool below to find the perfect accommodation for your vacation to Fort Myers Beach. Browse the map for options in various areas, or click on the search button to get all options listed.
Continue reading: Where to stay in Fort Myers >>
Fort Myers Beach vacation itinerary FAQ
Here you find the answers to some frequently asked questions about the Fort Myers Beach vacation itinerary.
How far is it from Fort Myers Beach to Sanibel Island?
Driving distance from Fort Myers Beach to Sanibel Island is 12 miles (19 km). It takes about 30 minutes to go by car from Fort Myers Beach to Sanibel Island.
Is Fort Myers Beach a good vacation spot?
Fort Myers Beach in Southwest Florida is often mentioned among the best places in Florida to vacation. It's blessed with a beautiful beach and warm weather around the year. In the area you also find Sanibel Island and the Edison and Ford Estates that add another dimension to the beach getaway.
Continue reading
Continue reading: The great Florida road trip from Orlando to Key West >>