Florida is a big state that offers a lot of great things to see and do. The best things to do in Florida include stunning nature, picturesque beaches and fun cities. In the diverse Florida, you find attractions for everyone to enjoy.
We can exist thanks to compensation from advertising including affiliate links. Learn more ›
1. The home of the alligators Everglades National Park
Everglades is a huge subtropical wetland that spans over 1.5 million acres across South Florida. To visit the vast and spectacular Everglades is on most Florida bucket lists.
Everglades National Park is a real biodiversity hotspot. With an abundance of tropical animals, the wetland and park is a must see place in Florida.
The alligators of Florida lived in Everglades long before any human was around. And still to this day the alligators have their sanctuary in the Florida Everglades.
One of the most memorable things to do in Florida and a popular way to see alligators in the Everglades is to tour the wetland by airboat.
2. Sanibel Island where man meets nature
To get to Sanibel Island you drive across the bridge from the mainland. It's only a few minutes to cross, but the short ride takes you to a totally different mindset. The best things to do on Sanibel Island are closely connected to nature.
You find no high rises on Sanibel Island, and outside lights are strongly discouraged at night. If lights are visible from the beach, they could disturb the navigation of the sea turtles. Among the must see places in Florida it's unique how on Sanibel Island man adjusts to nature and not the other way around.
3. The capital of theme parks Orlando
Orlando is certainly one of the most fun places in Florida. In Orlando you have all the theme parks you need, and even a few more. The Florida city is known as the capital of theme parks. Orlando's theme parks, including Disney World and Universal, could keep you busy for weeks.
But don't despair if you don't want to go to a theme park. Because the entertainment city among the must see places in Florida is not only about its famous theme parks. In the Florida city you also find shopping, dining and a thriving nightlife for great times off the parks.
4. Go to Clearwater Beach in Florida
To visit Clearwater Beach is one of the best things to do in Florida if you want a beach getaway. The beach that stunningly sits on the Gulf of Mexico offers fine white sand, calm water and great convenience.
Clearwater Beach is constantly mentioned as one of the best beaches in the world. And it's certainly easy to fall in love with the beauty of Clearwater Beach. That Clearwater Beach is only located 2 hours away from Orlando, also makes it a great beach to combine with a theme park capital visit.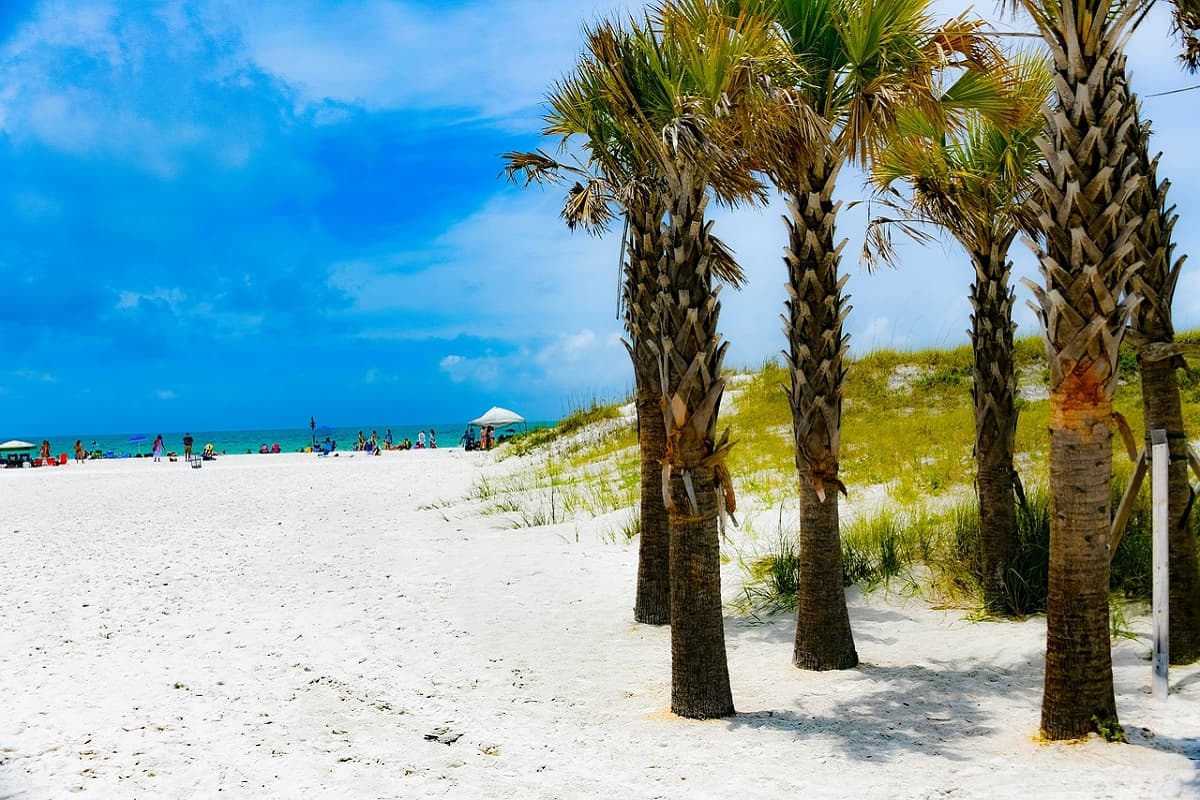 5. Relax in the Florida sun in Naples
Naples is another beautiful Florida beach town that picturesquely sits on the Mexican Gulf. The wonderful South Florida setting in Naples is a true pleasure to enjoy. Naple's blue water, white beach and green palm trees contrast each other so well.
But Naples is not only about its stunning beach. Old Naples has charming streets with high-end shopping, renowned restaurants and refreshing bars. There you find a mix of the traditional laid-back Florida and luxury.
6. Visit the oldest city St. Augustine
St. Augustine is known as the oldest city not only in Florida but even in the United States. The city on Florida's Atlantic coast was founded already in 1565. To explore the city's rich history and still standing historical structures is one of the best things to do in Florida for history buffs.
If you're rather after a traditional Florida beach vacation, the coastal city St. Augustine also offers miles of beautiful beaches with soft white sand. So when you visit St. Augustine, you get a package with both interesting history and lovely beaches.
7. Ichetucknee Springs is one of the coolest things to do in Florida
Florida is for good reason well known for its spectacular white beaches. But the state's much less known cool springs are also great to visit. To go to a Florida spring is certainly one of the coolest things to do in Florida.
Ichetucknee Springs welcomes you to enjoy its cool and pristine waters. Its water temperature remains at a constant of 72 °F (22 °C) throughout the year. At Ichetucknee you enjoy the cool freshwater, and avoid that the Florida heat gets the best of you.
8. Welcome to Miami
Miami is the biggest city in the state of Florida. It's so big that it's also one of the largest metropolitan areas in the US. The city has a unique vibe, and it's a must to include Miami among the best places to visit in Florida.
No matter if you look for nightlife, beaches, shopping or culture, you find the best of it in Miami. The mix of things to do is exactly what makes Miami one of the best Florida destinations for the bucket list.
9. Stunning must see Florida Panhandle beaches
Some of Florida's best beaches are located in the less explored Northwest Florida region, also known as the Florida Panhandle. They are not as famous as some South Florida beaches, but that doesn't make them less gorgeous.
Pensacola Beach and Panama City Beach are two such must see places in Florida that are too good to miss out on. The beaches in the Florida Panhandle offer postcard perfect shorelines with miles of white sand and clear water. Beach lovers' Florida bucket lists certainly need to include the stunning beaches in Northwest Florida.
10. The Southernmost Point in Key West
Key West is literally the end of the road in Florida. Where the Overseas Highway ends, you find the quirky island. Visiting Key West is really something else.
The quirky Key West stands out even among all the must see places in Florida. Freethinkers have always loved Key West. It's a place where sunsets are celebrated every night, the chickens roam free and the cats have six toes. The tropical island is also located so far south that the summer in Key West is endless.
Make the most of every trip with our newsletter delivered to your inbox.