Horseshoe Bend in Arizona is a highlight among all the great natural landmarks in the American Southwest. It's not surprising that the meander carved out by the Colorado River attracts millions of visitors year after year. Visiting Horseshoe Bend is a unique and breathtaking experience.
This travel site can exist thanks to compensation from advertising and affiliate links. Find out more here.
Guide to visiting Horseshoe Bend
How to get to Horseshoe Bend
Horseshoe Bend is located within Glen Canyon National Recreation Area just outside Page, Arizona. Although Horseshoe Bend is not part of Grand Canyon National Park the famous park begins only a little more than 5 miles (8 km) away.
Many visitors going to Horseshoe Bend drive from Las Vegas or Phoenix. The driving time from both cities to Horseshoe Bend is less than 5 hours.
To get to the Horseshoe Bend parking area from Page you just need to take Highway 89 south. After about 4 miles (6 km) and less than 10 minutes you see a sign next to the road saying "Horseshoe Bend Overlook".
From the parking area to the actual overlook it's a 0.75 mile (1.2 km) walk. The short walk takes roughly 10 to 15 minutes to complete.
What to expect when visiting Horseshoe Bend
The Horseshoe Bend overlook is located about 4,200 feet (1300 m) above sea level. Roughly 1,000 feet (300 m) below the Colorado River flows.
With the deep canyon, calm Colorado River and magnificent red desert landscape Horseshoe Bend is a sight to behold. It's often referred to as one of the prettiest places in Arizona.
Horseshoe Bend is also a year-round natural attraction that never closes. Neither you need a tour guide to visit. Therefore you can visit the gorgeous Horseshoe Bend exactly when you're up for it.
It's just 0.75 miles (1.2 km) from the parking lot to the overlook but keep in mind that there is very little shade along the way. Especially in summer Horseshoe Bend gets extremely hot and visitors are encouraged to prepare for the heat.
The origin of Horseshoe Bend
Horseshoe Bend is what is called an incised meander. In other words it's an in particular well developed meander.
A meander forms through cycles of erosion and deposition. Water flowing faster in the outside of a bend causes rock to erode. The eroded material from the river bank then is moved by the stream from the outside to the inside of the bend where the water is flowing slower.
In addition Horseshoe Bend was also affected by a gradual uplift of the plateau that it rests on. Instead of simply eroding from side to side the water followed the steepest route. Thanks to that Horseshoe Bend became the distinctive incised meander its known as.
Even though the shape of the impressive bend looks permantent it has taken millions of years for it to appear as it does today. Visiting Horseshoe Bend shows you how powerful the changes of nature can be.
Tips for visiting Horseshoe Bend
Visiting Horseshoe Bend is always a big experience. But a few tips for visiting Horseshoe Bend can make the experience even more special.
Be prepared to walk. From the parking lot at Horseshoe Bend you need to walk for three quarters of a mile (1.2 km) to reach the actual overlook where you have a magnificent view. It's strongly advised and a good tip for visiting Horseshoe Bend to wear solid closed-toe hiking shoes.
Expect hot weather. The summers in Arizona get very hot. And if it's hot in the air the ground is even hotter. Always when you visit but especially in the summer you should bring plenty of water and protect yourself from the sun. There is no shade along the trail to the overlook where you can take cover.
Life comes first. The huge drop down to Colorado river at Horseshoe Bend is extremely photogenic. But remember that a photo not is worth your life. It might be obvious but an important tip for visiting Horseshoe Bend is to be careful when you get those perfect pictures.
Bring binoculars. You don't need to bring binoculars to enjoy Horseshoe Bend. But the area is so vast that binoculars can help you to see things you otherwise would miss out on when you visit Horseshoe Bend.
Hold your hat. A hat can be a great way to protect yourself from the burning sun, but have in mind that sudden wind gusts can surprise you at the overlook. So make sure that it isn't loose when you admire the magnificent view at the Horseshoe Bend drop.
Combine your visit with Antelope Canyon. Antelope Canyon is located just 7 miles (11 km) away from Horseshoe Bend. Therefore it's a great idea to plan ahead and visit both on the same trip.
The best time to visit Horseshoe Bend during the day
Horseshoe Bend is an impressive place to visit at any time of the day. And the best time to visit Horseshoe Bend depends on who you ask. But even though visiting Horseshoe Bend is great no matter what time you go the visiting conditions vary throughout the day.
Visiting Horseshoe Bend early in the day
When you stand and look out over Horseshoe Bend you face the western direction. Therefore, if you visit Horseshoe Bend in the morning you have the sun in your back.
To have the sun slightly in your back makes sense from a photographic point of view. Successively the sun moves higher on the sky and lits up more of the canyon. As the river moves out of the shadow more and more color is let loose.
But visiting Horseshoe Bend the very first hours of the day means fewer visitors. So the best time to visit Horseshoe Bend is early in the morning, when the river still is completely in shadow, if your goal is to beat the crowds.
Visiting Horseshoe Bend around midday
During the day the sun moves from your back to your front. The effect of that is that the canyon is more lit up by the sun in the middle of the day, compared to early or late. And more sun on the canyon floor means more color.
Just remember that Horseshoe Bend gets extremely hot in summer. It's not unusual with temperatures exceeding 100°F, with mornings and evenings a bit more comfortable.
So to avoid the most extreme temperatures during summer, the best time to visit Horseshoe Bend is not in the middle of the day. Instead, the best time to visit Horseshoe Bend is earlier or later in the day to dodge the hottest hours of the day.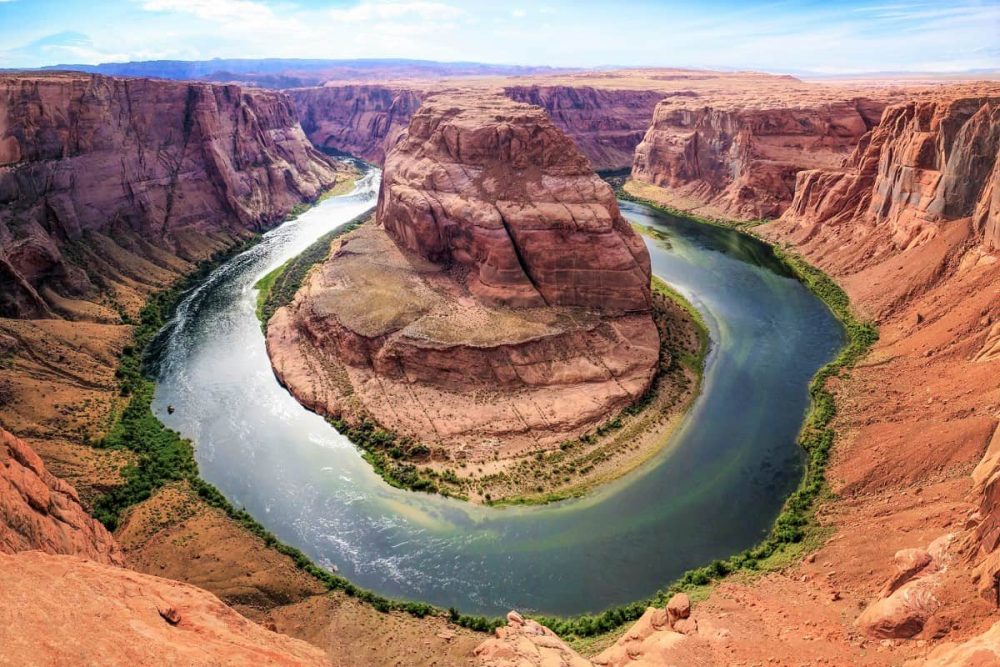 Visiting Horseshoe Bend for sunset
As the overlook at Horseshoe Bend is facing due west, you have the sun in front of you when you visit in the evening.
Late in the day Colorado River is entirely in shadow, and the canyon appears to be less colorful. So the sunset is not the best time to visit Horseshoe Bend if you want to see Horseshoe Bend in full color.
But few things are as magical as a sunset at Horseshoe Bend. If you visit for sunset it's a good idea to arrive a few hours on beforehand, walk to the Horseshoe Bend at your own pace and make a nice evening activity out of it. From that perspective the sunset is the best time to visit Horseshoe Bend for a comfortable experience.
If you visit for sunet you will also notice that as soon as the sun sets on the horizon most people will take off quickly. So thanks to that you could get rather private time at Horseshoe Bend by staying a bit later.
The best time of the year to visit Horseshoe Bend
A visit to Horseshoe Bend is beautiful in every season of the year. Spring, summer, autumn or even winter are all good times to visit the Arizona gem. Every season has its own characteristics, and your personal preferences decide the best time of the year to visit Horseshoe Bend.
Visiting Horseshoe Bend in summer (peak season)
Summer is the peak season for Horseshoe Bend, so at this time of the year you should expect to see bigger crowds. It's also the time of the year with hottest temperatures. In summer the average high temperature reaches north of 90°F (32°C), with temperatures frequently even hitting 100°F (38°C).
So if you like hot temperatures June, July and August are the best months to visit Horseshoe Bend. If you instead want to avoid hot temperatures or the bigger crowds the best time to visit Horseshoe Bend is during shoulder or low season.
Visiting Horseshoe Bend in spring or autumn (shoulder season)
Visiting Horseshoe Bend in spring or autumn means that you visit in shoulder season. These months the temperatures are lower compared to the hot summer months. In April or October the average high temperature reaches around 70°F (21°C).
Spring or autumn are the best times to visit Horseshoe Bend if you prefer to have neither hot or cold weather. May and September are the best months to visit Horseshoe Bend for warm but not hot temperatures.
Visiting Horseshoe Bend in winter (low season)
Going to Horseshoe Bend in the winter months means that you visit in low season. In January the average high temperature is around 45°F (7°C), and the average low below the freezing point. So when visiting Horseshoe Bend in winter there might be snow.
Winter season is the best time to visit Horseshoe Bend to avoid crowds. Just be prepared that the visitor count increases steeply around Christmas, and goes down again after New Year's.
Where to stay when visiting
The parking area for Horseshoe Bend is just next to Highway 89 and the driving distance from Page where you find accommodation and restaurants is just a little over 5 miles (8 km). So Page is a very convenient location for where to stay when visiting Horseshoe Bend.
If you stay in Page you can enjoy sunrises and sunsets without having to deal with long and uncomfortable drives. And by choosing a hotel in Page you also stay close to the area's other big attraction, Antelope Canyon.
Use the booking tool below to find the perfect accommodation for your Horseshoe Bend stay. Browse the map for options in various areas, or click on the search button to get all options listed.
Other things to see in the nearby area
There are so many natural wonders to explore in Arizona and Utah. Grand Canyon, Monument Valley, Zion National Park and Bryce Canyon are all to be found in these two states. But the most popular place to combine with a visit to Horseshoe Bend is Antelope Canyon.
Antelope Canyon is a slot canyon in Navajo Nation that's known for its beautiful wavy canyon walls and occasional light beams that reach through the canyon openings. As the driving distance from Horseshoe Bend to Antelope Canyon is just about 7 miles (11 km) they are easy to combine during the same day or two of a visit.
Distances from Horseshoe Bend
Antelope Canyon: 7 miles (11 km)
Zion National Park: 107 miles (172 km)
Monument Valley: 123 miles (198 km)
Grand Canyon North Rim: 120 miles (193 km)
Grand Canyon South Rim: 133 miles (214 km)
Bryce Canyon: 153 miles (246 km)
Las Vegas: 276 miles (444 km)
Horseshoe Bend and all the destinations above are included in the ultimate Southwest USA road trip from Las Vegas that combines the best places in the area into one epic road trip.
Another popular road trip if you want to explore Utah's national parks is Utah's mighty 5 national parks road trip.
Visiting Horseshoe Bend FAQ
Here you find the answers to some frequently asked questions about visiting Horseshoe Bend, Arizona.
Do you need a tour for Horseshoe Bend?
When you visit Horseshoe Bend you don't need a tour. Horseshoe Bend is a short drive away from Page. In the designated Horseshoe Bend parking area you can park your car and walk on your own to the beautiful overlook.
How long is the walk to Horseshoe Bend from the parking lot?
The walk from the parking lot to Horseshoe Bend is 0.75 miles (1.2 km) and takes about 10 to 15 minutes. In the summer the hot temperatures make the walk harder than it otherwise would be.
How much time do you need to see Horseshoe Bend?
The return walk from the parking lot to Horseshoe Bend takes about 20-30 minutes. To that you need to add time at the overlook and for taking photos. Normally a visit takes between 1 and 2 hours.
Continue reading
The best places to stay in Arizona >
Guide to Antelope Canyon, Arizona >
The perfect Arizona road trip itinerary >
Road trip from Los Angeles to New York >