In Key West you find six-toed cats, free-roaming chickens and sunsets that are celebrated each night. And winter never gets this far south, the summers are endless. This island is like no other place in Florida, the US or even the world. Visiting Key West is a trip like nothing else.
Duval Street and Whitehead Street are contrasting parallel streets that crosses Key West. If you get to know them, and the contrasts they offer, you get an understanding of what the island is all about.
Key West has its own quirky and laid-back culture. Here you are welcome to come as who you are whenever you are. It's always five o'clock somewhere!
Guide for visiting Key West
What to expect when visiting Key West
Key West is an island in the Florida Keys. Even though it's an island you can reach it by car, as it is connected by US Highway 1 with the mainland. The drive from the mainland is great, but flights and boats also go to Key West.
Its location means that Cuba is less than 100 miles (160 km) away, which is closer than Miami. Its southern location also means that weather stays warm every month of the year.
In January the daily average maximum temperature is 74°F (24°C), and even at night the temperature on average only goes down to 64°F (18°C). And that's the coldest month of the year!
But the main attraction of the Florida Keys has more to offer than wonderful weather. When visiting Key West you find a unique charming quirky vibe and something for everyone to explore.
Exploring the main streets of Key West
The two main streets in Old Town, Duval and Whitehead, offer a lot of fun attractions and great contrasts. Exploration of both when visiting Key West is needed to fully grasp what the island is about. While Duval Street is the famous and buzzing street, the more low profile Whitehead shows another side of the quirkiness that defines Key West.
Duval Street
Duval Street is the centre of attention, and it goes north to south, from the Atlantic Ocean down south to the Gulf of Mexico.
When you walk down Duval Street you walk in the heart of Key West. Here you find a wide selection of restaurants, bars and souvenir shops. The road is only 1.25 miles (2 km) long, but full with terrific places to eat and drink.
The most famous bar of them all is Sloppy Joe's Bar. It's the renowned bar that Ernest Hemingway used to go to. Hemingway's favorite Key West watering hole has been found on the same spot on Duval since 1937.
The saying that the clock always is 5 PM somewhere feels as meaningful as it possibly can on Duval Street in Key West. Here you always find reasons and possibilities to sit back and enjoy yourself, no matter what time it is.
Whitehead Street
If Duval Street is the heart of Key West, Whitehead Street is its soul. Whitehead Street goes parallel with Duval Street, one road in the western direction.
When visiting Key West you will notice that the road not is commercialized in the same way as Duval Street with its shops, restaurants and bars everywhere your eyes go. Instead, Whitehead Street is rather quiet and lined with old-fashioned bungalows in beautiful bright colors. This street, which many perceive as just a side street to Duval, is as important to the Key West identity as the buzzing neighbour.
On Whitehead Street you find Ernest Hemingway Home and Museum and Key West Lighthouse, located just across the road from each other. Hemingway often needed the lighthouse to be able to make it home from his favorite bar, Sloppy Joe's. Conveniently so, he just needed to follow the light to get back home.
On Whitehead Street you also find the famous Mile Marker 0. It's the end, or the beginning, of US Route 1. It runs along the East Coast of America, from the Canadian border all the way south to the tropical setting in Key West.
Most of Whitehead Street is very quiet, even though it's just a stone throw away from the always busy neighbor Duval. With its relaxing vibe it's a great place to dream away and reflect about both small and big matters.
But if you want a drink without leaving Whitehead, the Green Parrot Bar is ready to serve you something refreshing. It has stood on the same place since the end of the Second World War. And the bar is appreciated both by locals and visitors from all around the world.
When you follow Whitehead all the way south you get to Southernmost Point. It not only means the end of Whitehead Street, but also the end of the US. The monument in shape of a large concrete buoy represents that you are in the southernmost point of the continental US.
Sorry about the disclaimer. We just want to let you know that this site can exist thanks to advertising and including affiliate links. Read the full disclosure here.
Examples of the unique quirky spirit in Key West
Key West has always been a place for freethinkers and most of all it's the residents that make the place quirky. But some attributes showing the unique quirky Key West way really stand out when you visit.
Sunset celebration
The saying that you should live every day of your life as if it were your last day really comes to life every night in Key West. On Mallory Square every sunset means celebration.
Six-toed cats
During his days Ernest Hemingway was given the cat Snow White, a white six-toed cat, by a ship's captain. Today, descendants with the same trait live on the Ernest Hemingway property in Key West and pass on the heritage of Hemingway.
Free-roaming chickens
Watch out for chickens roaming down the street during your trip to Key West. The free-roaming chicken population is to be seen throughout the island. And they seem to enjoy life at least as much as the locals.
Conch Republic
In 1982 the city of Key West declared itself Conch Republic, as a protest against a blockade set up by the US border patrol on US Highway 1 at the beginning of Florida Keys. And today Key West residents proudly call themselves Conchs, pronounced as "KONKS".
"I told you I was sick"
When you wander through the cemetery when visiting Key West one headstone especially catches your attention. It reads "I told you I was sick", highlighting that the quirkiness of this place isn't distinguished by life or death. Instead, it's a permanent phenomenon.
What not to miss in Key West
Knowing Duval Street and Whitehead street also involves getting to know some of the best attractions on the main island of Florida Keys. But what in particular should be on the Key West to do list when visiting?
Mallory Square
Sunsets at Mallory Square is a great Key West tradition. Here you can spend the last hours of the day watching the sun sink lower and lower into the Gulf of Mexico horizon, creating beautiful colors in red, orange and pink.
The sunset on Mallory Square is always lively. Food vendors sell food and cold drinks while local performers try to attract the crowds. It's the perfect place to end a day when visiting Key West.
Fort Zachary Taylor State Park
If you prefer a more private moment when enjoying the sunset you should head to Fort Zachary Taylor Historic State Park on the southwestern part of the island. There the sunset is as pretty, but without the liveliness of Mallory Square.
In Fort Zachary you also find the best beach in Key West. This is a true gem when visiting Key West.
Read more: Our favorite beach in Key West, Florida >>
Southernmost Point
As the name indicates the Southernmost Point symbolises the southernmost point of the continental US. The monument takes shape of a large anchored concrete buoy.
Visitors line up as early as dawn to take pictures of the famous buoy in black, red and white. From breakfast time until sunset a line of tourists appear on the block. All wanting a picture with the monument as a symbol for the ultimate Florida Keys trip.
A map shows you that there are a few points on the island where you are even further south than the monument Southernmost Point. But no matter the exact placement of the monument, it's amazing to be in the most southernmost point of the continental US, Key West.
Ernest Hemingway Home and Museum
The property where Ernest Hemingway used to live in Key West is fascinating to visit if you want to know more about the author himself or simply want to know more about life on the island during those days.
Hemingway himself beautifully stated that: "every man's life, told truly, is a novel". When you hear the entertaining novel about him during your visit you also learn some of the story about Key West.
When visiting Ernest Hemingway Home & Museum you also get to make acquaintance to the iconic six-toed cats.
Read more: The beautiful Ernest Hemingway Key West Home & Museum, Florida >>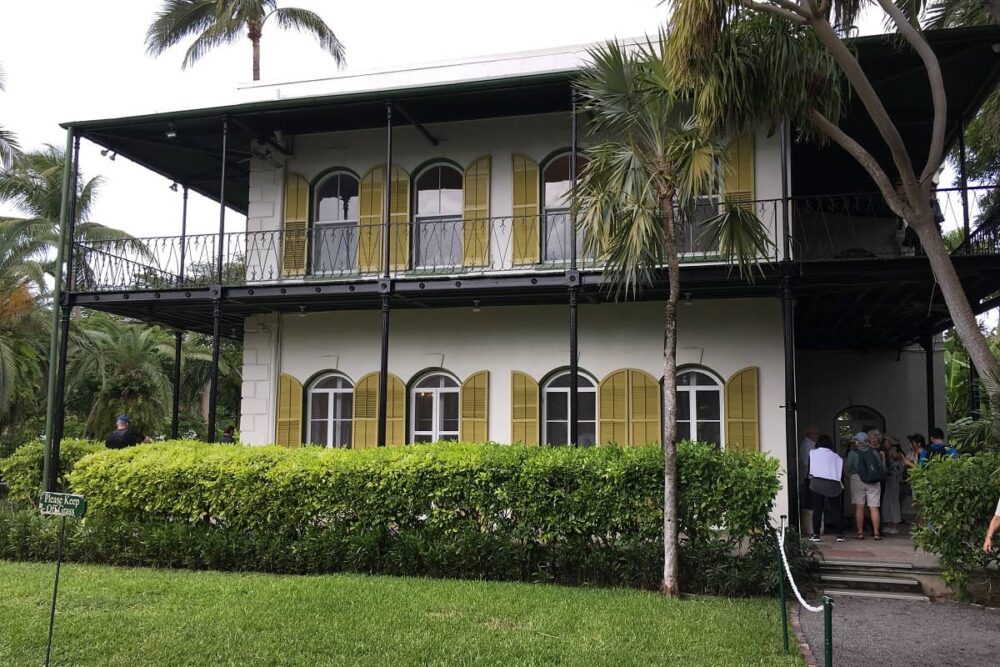 Sloppy Joe's Bar
Among all bars on the island, Sloppy Joe's is on top of the list. It was founded already in 1933, and Ernest Hemingway soon made it his favorite watering hole.
But Sloppy Joe's location on the island was originally across the street from the current location. The move to today's location was made in 1937, when the owner moved the establishment to avoid a rent increase. A raise from three to four dollars a week might not sound as much to fight about today, but back in the days it was a significant amount of money.
Nevertheless, Sloppy Joe's after the move found its perfect spot in the heart of Duval Street. The bar contributes to the buzz of Key West with refreshing drinks and live music. Here you have all you need for a good night out whe nvisiting Key West, just like in the days of Hemingway.
Mile Marker 0
The US Highway 1 zero sign is one one the most photographed spots in town. This place marks the end, or the beginning, of the highway that goes for 2,369 miles (3813 km) from the Canadian border all the way down to Key West.
Dry Tortugas
Key West is the last island in Florida Keys that you can reach by car. But it's not the last island in the Keys. Dry Tortugas is a small group of paradise islands that are located even further west.
Here in Dry Tortugas National Park you can explore amazing scenery and the historically Fort Jefferson. Though technically almost 70 miles (113 km) from Key West, the seaplanes and boats depart from there and a day in the very outer part of the Keys is a fun addition to a Key West trip.
Read more: The best things to do in Key West, Florida >>
Where to stay during your Key West trip
If you stay in Old Town, which is on the western part of the island, you have most attractions nearby. Therefore you can relax and not have to think about driving or making it in time for a shuttle to get around.
But if you don't plan to spend much time in Old Town it could be a good option to stay in the eastern parts of Key West to get better hotel rates. Generally, the further away from Duval Street the better rates you find.
The southern part of Duval closer to Southernmost Point is good if you prefer it quiteter but still central. For more action right at your door steps it's better to stay at a hotel near Mallory Square on the north end of Duval when visiting Key West.
Read more: Where to stay in Key West >>
How to get around on the island
The size of Key West is perfect for a laid-back vacation. If you stay in Old Town when visiting Key West you have walking distance to Duval Street and Whitehead Street, which means that you are close to most things to do. Therefore having a car while visiting isn't necessary or even optimal.
To tour the city you can easily walk, bike or take the old town trolley tour. The latter is a hop-on and hop-off trolley which takes you to some of the most interesting places of Key West in a convenient way.
Driving to Key West
The Overseas Highway is the southermost part of US Highway 1. It takes you the 113 miles (182 km) from the mainland all the way down south to Key West. And driving the Overseas Highway with its scenic views is the most spectacular way to get there.
Along the impressive highway there's a lot to do apart from enjoying the amazing views. Key Largo, Islamorada, Marathon and the Lower Keys area before you get to Key West are great places for stops.
Key Largo
The Key Largo area is known as the gateway to Florida Keys. John Pennekamp Coral Reef State Park and the African Queen Canal Cruise are popular things to do here.
Islamorada
Islamorada is the halfway point between Miami and Key West. Here you can visit Indian Key Historic State Park and feed giant tarpons.
Marathon
Marathon sits in the heart of Florida Keys. Sombrero Beach that's located in Marathon is one of the best beaches in the Keys. And here you can also visit Florida Keys Turtle Hospital.
Lower Keys
Lower Keys before Key West is home to the Key deer. In the National Key Deer Refuge the tiniest member of the North American white-tailed deer family lives. The area is also home to Bahia Honda State Park and its famous beach.
See full road trip itinerary from Miami to Key West: The ultimate Miami to Key West drive >>
Start here if you drive from Orlando to Key West: The great Florida road trip from Orlando to Key West >>
Key West guide FAQ
Here you find the answers to some frequently asked questions about visiting Key West.
Why should you make a trip to Key West?
While endless summer alone is a great reason to travel to the Keys, there is much more on offer than just the warm weather. So visit the interesting places that the island has to offer, and enjoy the quirkiness that rests over all of Key West. And remember that it's always five o'clock somewhere and that five o'clock is best spent in Key West!
How many days do I need in Key West?
Key West is such a small and compact place that you could explore the main attractions on the island in 2-3 days without hurrying around too much. However, to fully unwind during your stay more days are recommended. Also, add time if you want to do activities on the water such as a day trip to Dry Tortugas.
Can you see Cuba from Key West?
You can't see Cuba from Key West. Cuba is only about 90 miles (145 km) away from Key West, but that's too far away to be able to see it. If you visit the Key West Lighthouse you can't even see half that distance even on a clear day.