In Zion National Park you find colorful sandstone cliffs, evergreen canyon floors and blue skies. Zion is an oasis in the American Southwest and truly the nature lover's playground. When visiting Zion National Park, you find something beautiful to observe wherever your eyes go.
We can exist thanks to compensation from advertising including affiliate links. Learn more ›
Guide to visiting Zion National Park, UT
What to expect when visiting Zion National Park
Zion National Park is characterized by deep canyons, striking sandstone cliffs and lush vegetation. Zion encompasses 229 square miles (590 km²) and is home to more than a thousand different species of plants.
To a large extent the diverse flora in Zion National Park is evergreen. With permanent green color the plants in Zion contrast the cream, pink and red sandstone cliffs around the year.
Just as the flora in Zion is diverse so is the wildlife. Most notably Zion National Park contains almost 70 different species of mammals including mule deer, big horn sheep, foxes and squirrels. In addition to that a great variation of reptiles, amphibians, fish and birds also like to call Zion National Park their home.
Zion can thank the elevation changes within the park for much of its diverse flora and fauna. The highest point Horse Ranch Mountain is at 8,726 feet (2660 m). Significantly lower Coal Pits Wash is at 3,666 feet (1117 m) the lowest point in Zion National Park.
The way Zion once formed has set up a fantastic environment for plants and animals to thrive. When visiting Zion National Park it's easy to see how remarkable the legendary Utah park is.
The best things to do in Zion National Park
Most of all visiting Zion is about enjoying the park's diverse nature. The best things to do in Zion National Park include wildlife viewing and hiking the famous Zion trails.
Explore Zion Visitor Center
The best way to begin a visit to Zion National Park is to check out the visitor center. Zion Canyon Visitor Center is located right at Zion's southern entrance across Virgin River from Springdale.
At the Zion visitor center you find park staff who can answer any questions you might have, a miniature model of Zion and a sizeable bookstore. In other words you at Zion Canyon Visitor Center find all you need to be up to date about the Utah park.
Hike the Zion trails
Hiking is the number one thing to do in Zion National Park. If you like to hike it's hard not to love Zion National Park. The Utah park offers some of the most amazing hikes in America.
One of the most spectacular, and definitely the most scary, is Angels Landing. Hikers on the Angels Landing trail ascend roughly 1,500 feet (450 m) with steep switchbacks on a narrow path.
But there are hikes in Zion for every experience and ambition level. You can choose from a wide range of hikes in Zion National Park.
Zion wildlife viewing
When you visit Zion National Park you need to be prepared on that you're not the only type of mammal present. In the park almost 70 mammal species live side by side with the human Zion visitors.
So in Zion National Park you often get some appreciated wildlife company. Frequently sighted wildlife in Zion include mule deer, bighorn sheep, foxes and squirrels.
But that's just the start when it comes to wildlife viewing in Zion. Other animals such as mountain lions and bobcats also live in the park although they mostly prefer to stay under the radar.
In addition to mammals you also find reptiles, amphibians, fish and birds in Zion National Park. With such a rich population wildlife viewing is one of the best things to do in Zion National Park.
Take the Zion – Mount Carmel Highway
The 25 miles (40 km) long winding Zion – Mount Carmel Highway is not like a regular highway. From Zion's South Entrance to Mount Carmel the extremely scenic Utah drive rewards visitors with mind-blowing rock formations and remarkable pull outs for photos.
In addition an engineering highlight as you take the scenic drive is the historic Zion – Mount Carmel Tunnel, also known as the Zion Tunnel. The narrow 1.1 miles (1.8 km) long tunnel slows down traffic but certainly adds a dimension to the already scenic Zion drive.
Hiking when visiting Zion National Park
Hiking allows you both to explore famous Zion spots and to discover your very own Zion gems. Some hikes in Zion National Park are more family oriented with easier and shorter trails. Other Zion hikes are more strenuous and claim more time and effort.
The family friendly Riverside Walk
Distance: 2.2 mi / 3.5 km
Elevation change: 57 ft / 17 m
Riverside Walk is a 2.2 miles (3.5 km) roundtrip that is excellent for families with kids, or just anyone who looks for a casual stroll. It's a short but easy hike that shows you some of the best of Zion National Park.
The Riverside Walk starts at the Temple of Sinawava, which is the final shuttle stop. So the Riverside Walk trail really is located in the heart of Zion National Park.
Along Virgin River and surrounded by green trees the paved Riverside Walk is a pleasure for every Zion hiker. Where the Riverside Walk ends a much more strenuous hike begins, the Narrows.
It's easy to spot the end of the Riverside Walk. There the canyon gets so narrow that all that fits is the river. The end of the Riverside Walk is an appreciated spot for a cooling break before you head back to the Temple of Sinawava.
The Narrows hike
Distance: 9.4 mi / 15.1 km
Elevation change: 334 ft / 102 m
Where the Riverside Walk ends the more strenuous Narrows hike begins. It's 9.4 miles (15.1 km) long and when you hike the Narrows you need to prepare to get wet.
Because for a large portion of the challenging Narrows hike you step on the river bottom. In the tight Zion canyon you slowly but surely wade upstream in the water.
The Narrows is the very slimmest part of Zion National Park. It's often mentioned as one of the best hikes in Zion to take but for security reasons it gets closed if the water level is too high.
The Angels Landing hike
Distance: 5.4 mi / 8.7 km
Elevation change: 1,488 ft / 453 m
Among all the hikes in Zion the most famous one is the Angels Landing hike. The Zion hike is especially known for its narrow and thrilling climbs.
Angels Landing is 5 miles (8 km) long and has an elevation change of 1,488 feet (453 m). Some parts of the trail are just a few feet wide with big drops on both sides. There you need to use the trail's chains to get through.
But before you decide to do the Angels Landing hike you need to have in mind that the narrow climbs can be dangerous. So avoid the hike if you have fear of heights, lack a good physical fitness or come with young kids.
As Angels Landing is such a challenge you need to think twice about hitting the famous Zion trail. However, Angels Landing is definitely one of the best and most spectacular hikes to take in Zion National Park.
Travel guide tip. As Angels Landing is so popular you need a special Angel Landing permit to take the awe-inspiring Zion hike.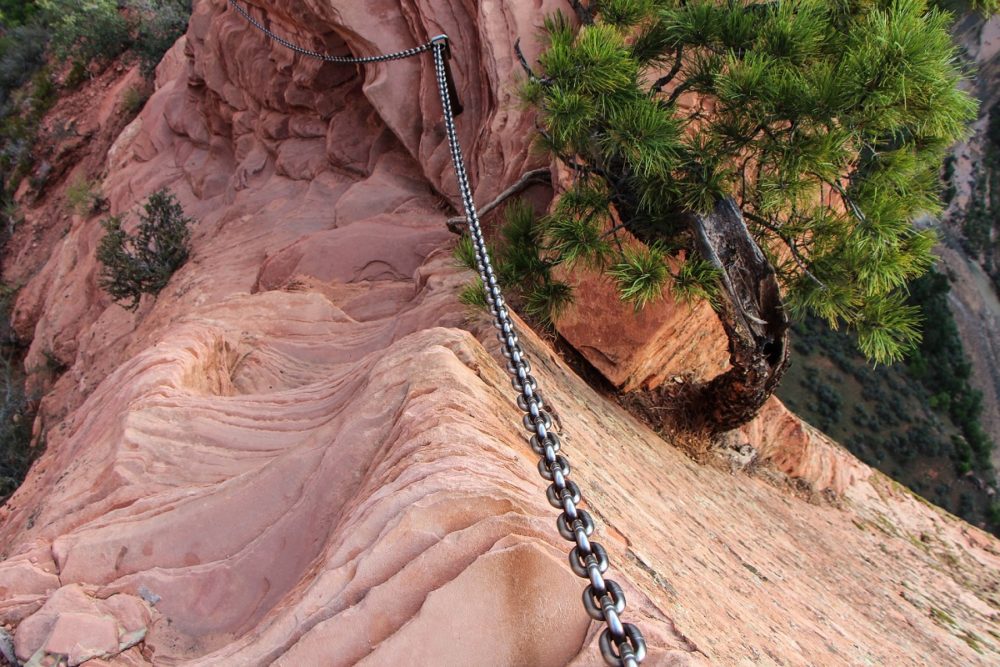 The Observation Point hike
Distance: 8 mi / 12.9 km
Elevation change: 2,148 ft / 655 m
Another great hike when visiting Zion National Park is the Observation Point hike. It's 8 miles (12.9 km) long and takes you to the highest point there is to hike to in Zion National Park.
From the top of the Observation Point hike you get a fantastic view over Zion. The spectacular viewpoints really make your jaw drop.
As you're on top of Zion you can see other trails including Angels Landing from a bird's eye view. The high elevation gives you a perspective of Zion National Park that you can't get when you hike the lower elevated trails
Tips for visiting Zion National Park
Visiting Zion National Park is always a big experience. But a few tips for visiting Zion can make the experience even more enjoyable.
Protect yourself from the sun. Zion is situated in Utah where the sun is really strong. So especially if you visit Zion during the warmer months of the year it's very important to protect your skin from the sun. The good thing is that you pretty easily can find some shade on most trails.
Bring more water than you think you need. In the hot Zion conditions you need to bring two or three times as much water as you usually would. In the summer the canyon in the park faces extreme temperatures, regularly over 100°F (38°C). So to go on a hike with only a medium sized bottle of water could be the last decision you ever take. Therefore a very important tip for visiting Zion is to bring more water than you think you need.
Expect to meet fellow hikers. Zion is a beautiful park that people all over the world wants to experience. Therefore when you hike in Zion National Park you will run into other hikers. But remember that the people you meet along the trail just like you want to enjoy the stunning Zion. So get advice from people coming from where you are heading, ask for a picture or just appreciate that if needed help is always available not too far away.
Stay up to date. It happens that major rockfall or other factors keep trails in Zion closed. Therefore make sure that you follow any updates about the current conditions in Zion National Park to avoid disappointment.
The best time to visit Zion National Park
Zion National Park is a great place to visit year round. However, every season in Zion offers something different. The best time to visit Zion National Park depends on what kind of weather and experience you prefer.
Visiting Zion in winter (low season)
Winter is the most quiet time of the year in Zion National Park. Zion gets much fewer visitors in winter compared to the other seasons of the year.
In January the daytime high temperature on average reaches a comfortable 54°F (12°C). But after sunset in December, January and February it's not unusual with temperatures below the freezing point.
If you don't mind the colder temperatures winter is a great time to visit Zion. Above all winter is the perfect time to experience Zion without crowds.
Visiting Zion in spring (shoulder season)
Spring means shoulder season in Zion National Park. In spring visitors in bigger numbers start to arrive after the slower winter season. Still the crowds are smaller in spring compared to the busy summer period.
During daytime in spring Zion National Park really warms up. In April the average daytime temperature goes up to 75°F (24°C). But in the Utah desert the night temperatures remain rather cool in spring.
Often spring is referred to as the best time to visit Zion National Park. With fewer visitors than in the summer season and comfortable daytime temperatures it's easy to see why spring in Zion is so very appreciated.
Visiting Zion in summer (peak season)
Summer is the most popular time of the year to visit Zion National Park. Finally people have time to take that sought-after trip to Zion. In summer the Zion National Park visitor count skyrockets and the park is as lively as ever.
With summer also comes scorching hot temperatures in Zion National Park. Temperatures above 100°F (38°C) often occur in the hottest months June, July and August.
So if you don't like the idea of a busy park and boiling temperatures summer is not the best time to visit Zion National Park. But the scenery in Zion, with evergreen plants filling up the canyons, is as pretty in summer as it always is.
Visiting Zion in autumn (shoulder season)
In autumn the visitor count gradually slows down after the intense summer period. The crowds get thinner and the peacefulness finds its way back to Zion National Park once again.
As the visitor count goes down in autumn so does the Zion temperatures. The average daytime high temperature in October is 79°F (26°C).
Autumn is just like spring often mentioned as the best time to visit Zion National Park. With thinner crowds and less extreme temperatures than in summer there isn't much to complain about when visiting Zion in autumn.
Where to stay when visiting
There are many great options for where to stay at Zion National Park. You can stay within the park or you can look towards the nearby towns.
If you want to stay within the park you can do so at Zion National Park Lodge. Some hiking trails start at the lodge and a base there allows you to have some extra quality time inside the park when the daily park visitors are gone.
Alternatively you can base yourself in the adjacent town Springdale. From Springdale you reach the Zion park entrance in just a few minutes. The superb park access and great comfort at hotels in the gateway town gives you the best of both worlds.
A third option when visiting Zion National Park is to base yourself in Hurricane or La Verkin, roughly 20 miles (32 km) west of Springdale. In the two towns you find cheaper lodging compared to if you stay closer to the park adventure.
Use the booking tool below to find the perfect accommodation for your Zion stay. Browse the map for options in various areas, or click on the search button to get all options listed.
Other places to visit near Zion
The southwestern part of the USA certainly has a lot to offer. To say that you have a lot to see within a few hours from Zion National Park is not an overstatement.
Zion National Park is one of Utah's mighty 5 national parks. The other parks in Utah are Bryce Canyon NP, Capitol Reef NP, Arches NP and Canyonlands NP.
Among Utah's mighty national parks the closest one to visit from Zion is Bryce Canyon National Park. From Zion National Park it's only 72 miles (116 km) to Bryce. Therefore it's very popular to visit them both on the same Utah trip.
In addition there's even more beauty to explore across the Arizona border. If you venture into Arizona you can easily add Horseshoe Bend, Antelope Canyon, Monument Valley and the mighty Grand Canyon NP to your ultimate Southwest road trip itinerary.
Mighty 5 from Zion
Bryce Canyon NP: 72 mi / 116 km
Capitol Reef NP: 180 mi / 290 km
Arches NP: 310 mi / 499 km
Canyonlands NP: 322 mi / 518 km
Other destinations from Zion
Visiting Zion National Park FAQ
Here you find the answers to some frequently asked questions about visiting Zion National Park, UT.
How many days should you spend in Zion National Park?
When visiting Zion National Park you should have three or more days available to fully enjoy the experience. Longer hikes like Angels Landing and Observation Point normally take about half a day each to complete. With three days you have time for both some of the more challenging hikes and peaceful canyon strolls.
When is the best time to visit Zion National Park?
Above all Zion is a year-round park. Still spring and autumn are generally regarded as the best times to visit Zion National Park. Compared to summer the shoulder periods see smaller crowds and more moderate temperatures.
Is it worth going to Zion National Park?
Zion National park tempts visitors to the park with its scenic canyons and blue skies. The park is the nature lover's playground and the hikes you find in Zion are some of the most jaw-dropping in the US. If you like nature it's easy to find reasons to visit Zion National Park.
What is the best way to see Zion National Park?
The best way to see all the breathtaking beauty in Zion National Park is by hiking. However, you don't need to do the most strenuous hikes to see Zion. The Riverside Walk is a great example of an accessible hike that most visitors can take and enjoy.
How far is Zion National Park from Las Vegas?
Zion National Park is located 166 miles (267 km) from Las Vegas. The estimated driving time from Las Vegas to Zion is between 2.5 and 3 hours.
Make the most of every trip with our newsletter delivered to your inbox.