Visiting Zion National Park means cream, pink and red sandstone cliffs, green canyon floors and blue skies. Here you have all you need to enjoy great scenery and amazing hikes.
The park is located in Southwestern Utah, just outside Springdale. That it opened already in 1919 makes it the oldest national park in Utah. The fantastic environment in the park makes it a crown jewel you shouldn't miss out on.
Sorry about the disclaimer. We just want to let you know that this site can exist thanks to compensation received from advertising and affiliate links. Read the full disclosure here.
What to expect when visiting Zion National Park
Zion National Park is characterized by deep canyons with sandstone cliffs and a contrasting diverse green fauna. Its 229 square miles (590 km²) is home to more than a thousand species of plants that grow in Zion, some of them being evergreen and therefore always breaking off the cream, pink and red sandstone cliffs.
Much of the diverse fauna in Zion is made possible by the elevation changes within the park. The highest point Horse Ranch Mountain is 8,726 feet (2660 m), compared to the lowest point of 3,666 feet (1117 m) at Coal Pits Wash.
Just as the fauna is diverse so is the wildlife. Zion National Park contains approximately 78 different species of mammals including mule deer, foxes, big horn sheep and squirrels. In addition to that a great amount of different species of reptiles, amphibians, fish and birds also like to call Zion their home.
The way Zion has formed has set up a fantastic environment for plants and animals to thrive. And the best way to find out more about the beauty when visiting Zion National Park is by hiking.
Hiking when visiting Zion National Park
Hiking allows you to explore Zion and discover your own gems. There are different types of hiking challenges depending on what you're after. Some are more family oriented with easier and shorter trails while others are more demanding. A short family friendly hike is Riverside Walk. Two of the most popular trails and best things to do in Zion National Park, which both are strenuous, are Angels Landing and Observation Point.
Family friendly Riverside Walk
Riverside Walk is a 2.2 miles (3.5 km) roundtrip that is excellent for families with kids, or just anyone who looks for a casual stroll. You should reserve 1-2 hours for the hike itself and more for stops for photos or to enjoy the views.
The Riverside Walk starts at the Temple of Sinawava, which is the final shuttle stop. So here you really are in the heart of Zion National Park. The hike goes on a paved trail along Virgin River surrounded by green trees.
Hiking the Riverside Walk takes you to the start of the Narrows, a much more strenous hike. It's easy to spot the end of the Riverside Walk as the canyon there gets so narrow at that all that fits is the river. Here you can have a cooling break before you head back to the Temple of Sinawava.
Angels Landing hike
Sometimes it's about the journey and not about where you end up, or at least about the journey as much as the destination. Certainly, this is the case for Angels Landing. Of course the scenic views on the way up to the top of Angels Landing are spectacular, but it's the narrow and thrilling climb that the hike is especially known for.
At some stretches the trail is just a few feet wide with big drops on both sides. So there you need to use chains to get through and just getting through will catch most of your attention. But if you have the courage (or stupidity, depending on how you see it) to look down from where you climb you can enjoy some of the great scenery that Zion National Park has to offer.
Before you decide to do Angels Landing, have in mind that the narrow climbs are dangerous. So avoid it if you have fear of heights, lack a good physical fitness or bring young kids.
The challenging and to some extent dangerous hike of Angels Landing is 5 miles (8 km), has an elevation change of 1500 feet (457 m) along the trail and you should reserve 2-5 hours for it.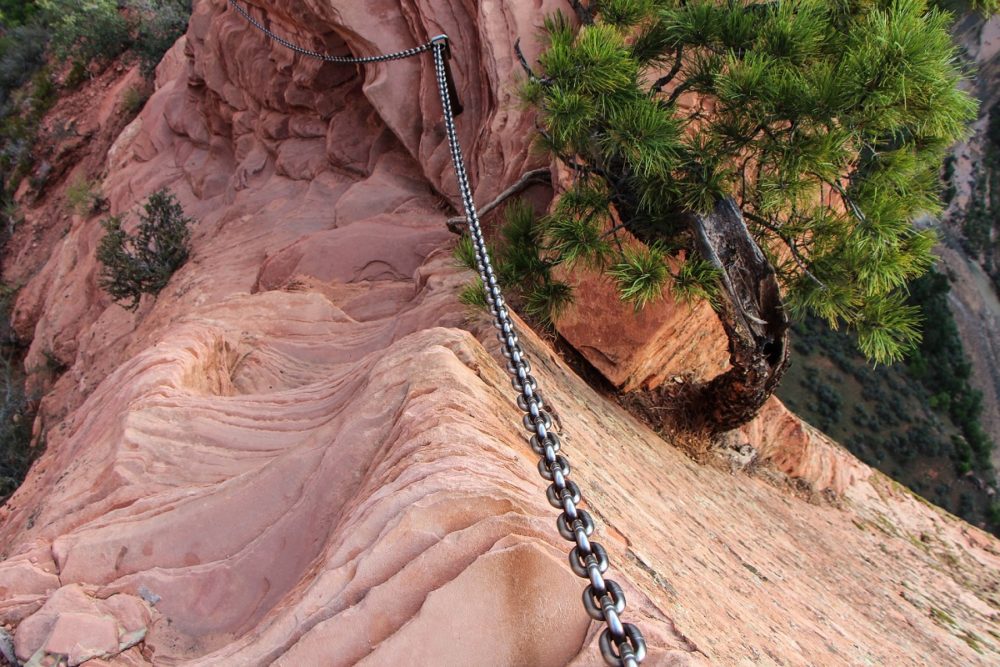 Observation Point hike
Another great hiking option when visiting Zion National Park is the trail to Observation Point. It really makes your jaw drop. The views from the top are spectacular. They are the best in the Park.
From Observation Point you get a great overlook over Zion and you even get to see Angels Landing from above. The high elevation makes you able to get another perspective of Zion National Park than the one you get from the lower elevated Angels Landing.
The hard to beat trail of 8 miles (13 km), has an elevation gain of 2100 feet (640 m) along the trail and it takes about 3-7 hours to complete depending on your pace.
Should you pick Angels Landing or Observation Point?
There are some differences to have in mind when you pick which of the two popular hikes to do when visiting Zion National Park. First of all, unfortunately fallen rocks and storm damage could cause trails to temporarily close. So check the current status of the park before you decide which one to go for. But if both are available and you want to pick just one, should you pick Angels Landing or Observation point?
There's no doubt about that both hikes are strenuous. However, they have somewhat different characteristics. Observation Point is longer than Angels Landing, has a higher elevation gain and takes longer to complete. Angels Landing is narrower and therefore less appropriate if you lack good balance, steady feet or just simply don't like heights. The strenuousness is there, but in a different way compared to Observation Point.
Tips for visiting Zion National Park
Visiting Zion National Park is always a big experience. But a few tips for visiting Zion can make the experience even more enjoyable.
Protect yourself from the sun. Zion is situated in Arizona and the sun is really strong. Therefore during the warmer months of the year it's very important to protect your skin in the burning sun. The good thing is that you pretty easily can find some shade on most trails.
Bring more water than you think you need. In the hot Zion conditions you need to bring two or three times as much water as you usually would. In the summer the canyon in the park faces extreme temperatures, regularly over 100 degrees F (38 C). So to make a hike with only a medium sized bottle of water could be the last decision you take. Therefore a very important tip for visiting Zion is to bring more water than you think you need.
Expect to meet fellow hikers. Zion National Park is a beautiful place that people from all over want to see. That means that you will run into other hikers in the park. Remember that the people you meet along the trail have the same goals as you have, to enjoy the beautiful Zaion National Park. So get advice from people coming from you are heading, ask someone to take a picture for you or just be comfortable knowing that if anything bad would happen help is always available not too far away.
The best time for visiting Zion National Park
Zion National Park is a great place to visit all year-round. But each season has its unique features in Zion. Which season that is the best time to visit Zion National Park depends on what you're after.
Visiting Zion in winter
The winter time in Zion is the most quiet time of the year when visiting Zion National Park. Visiting Zion in winter means that you face pretty mild daytime temperatures around the middle and upper 50 °F (13 °C) region. But during nights in January, February in March it's not unusual with temperatures below the freezing point.
Winter is the best time of the year for visiting Zion National Park if you ambition is to avoid crowds. And during winter in Zion the shuttle doesn't operate, so you can take your car straight into the park.
Visiting Zion in spring
In spring the park warms up during daytime, while the nights remain pretty cool. Spring is often regarded as the best time for visiting Zion National Park as the weather is comfortable and the park is still uncrowded. March, April and May are all very good months to visit Zion.
But have in mind that hiking the Narrows usually isn't possible in spring due to high flow rates in the Virgin River. So visiting Zion National Park in spring is not the best time if you plan to hike the Narrows.
Visiting Zion in summer
Summer is the peak time for visiting Zion National Park. During this time of the year you can expect big crowds and hot temperatures. Temperatures around 100°F (38 °C) often occur during June, July and August.
So from both the crowd perspective and temperature wise summer is not the best time to visit Zion National Park. If you can it's wiser to plan visiting Zion National Park in late spring or early autumn to avoid the biggest crowds and the hottest temperatures.
Visiting Zion in autumn
Autumn is a great time for visiting Zion National Park. After the busy summer period the visitor count slows down in September as the very hot temperatures go away for more moderate days.
The hiking weather is very comfortable in October with daytime temperatures in the area around 78°F (26 °C). Visiting Zion National Park in November means a bit chillier temperatures, but on the positive side the crowds get thinner too.
Where to stay when visiting
Zion National Park Lodge and Springdale are two very popular options for where to stay when visiting Zion National Park. A third option is to stay a little further away in Hurricane/La Verkin.
If you want to stay within the park when visiting you can stay at Zion National Park Lodge. Some hiking trails start at the lodge and the benefit of staying there is that you can have some quality time in the park when the daily visitors are gone. But the lodge is booked up very quickly, so you need to be out early or be very lucky.
Springdale is the closest town to Zion National Park, and it's situated really close. From Springdale you reach the entrance to the park in just a few minutes. And there you find nice hotels to stay at. So as Springdale is located just at the gateway to Zion, it gives you the better of two worlds. That is to say you can spend the days in nature and go out for dinner at restaurants at night and sleep in your comfortable hotel bed.
A third option when visiting Zion National Park is to base yourself in Hurricane/La Verkin, which is about 20 miles (32 km) west of Springdale. From Hurricane/La Verkin you have a driving time of roughly 20 minutes to get to the park. It's not as close as Springdale, but still just a short drive away.
Use the booking tool below to find the perfect accommodation for your Zion stay. Browse the map for options in various areas, or click on the search button to get all options listed.
Other places to visit near Zion
The Southwestern part of the US has a lot to offer that you can combine with your visit to Zion National Park. To say that you have a lot to see within a few hours ride is not an overstatement.
Zion National Park is one of Utah's mighty 5 national parks. The other parks in Utah are Bryce Canyon NP, Capitol Reef NP, Arches NP and Canyonlands NP.
If you venture into Arizona you can also easily include Horseshoe Bend, Antelope Canyon, Monument Valley and the mighty Grand Canyon NP to your ultimate Southwestern road trip itinerary.
Mighty 5 from Zion
Bryce Canyon National Park: 72 miles (116 km)
Capitol Reef National Park: 180 miles (290 km)
Arches National Park: 310 miles (499 km)
Canyonlands National Park: 322 miles (518 km)
Other destinations from Zion
Horseshoe Bend: 107 miles (172 km)
Antelope Canyon: 112 miles (180 km)
Grand Canyon National Park (North Rim): 112 miles (180 km)
Monument Valley: 225 miles (362 km)
Visiting Zion National Park FAQ
Here you find the answers to some frequently asked questions about visiting Zion National Park.
How many days should you spend in Zion National Park?
It's optimal if you have two to three days for visiting Zion National Park depending on how many hikes you want to make. Longer hikes like Angels Landing and Observation Point normally take about half a day each to complete. Ideally, plan in one longer hike a day and if you still feel fresh you have time for some shorter hikes as well.
What is the best way to see Zion National Park?
Undoubtedly, the best way to see Zion National Park is by hiking. But you don't need to do the most strenuous hikes to see Zion. The Riverside Walk is a great example of an accessible hike that most can do.
How far is Zion from Vegas?
Zion is 166 miles (267 km) away from Las Vegas. Estimated driving time from Vegas to Zion is between 2.5 and 3 hours.
Continue reading
Utah's spectacular mighty 5 national parks >>
The ultimate Southwestern desert road trip >>
American cross country road trip from Los Angeles to New York >>