The capital of Massachusetts, Boston is one of the most historic cities in America. Therefore, thinking one extra time about where to stay in Boston is highly rewarding. Sure, there's a comprehensive public transport system, including a subway, but with so much to see above ground — think historic sites framed by sparkling waterfronts — that's where you want to be as much as you can.
Downtown Boston is overall the best option for where to stay when visiting Boston, especially if you visit without a car. Laced with the must-see Freedom Trail, Downtown Boston puts you in a position where you can walk everywhere.
But several surrounding Boston neighborhoods compete for your attention. Other options for where to stay in Boston are North End, Seaport District, Beacon Hill, Back Bay, West End, South End and — across Charles River — Cambridge.
We can exist thanks to compensation from advertising including affiliate links. Learn more ›
Downtown Boston
If you want to have the city's best on your doorstep, don't look past Downtown Boston. This area is home to several of the 16 historic Freedom Trail sights, loaded with top hotels and provides effortless access to most other Boston neighborhoods worth visiting.
You can't avoid historic sights in Downtown Boston. Lace up your favorite shoes and see everything from the Park Street Church to Old State House to Faneuil Hall — all connected by the Freedom Trail.
Faneuil Hall and the adjacent North Market, Quincy Market and South Market together form the festival-style Faneuil Hall Marketplace. Come here for historic shopping and food, ranging from buttered lobster roll to pizza.
These centuries-old downtown landmarks are contrasted by modern skyscrapers shooting up towards the Massachusetts sky. Downtown Boston, partly comprised by the Financial District, houses an array of corporate headquarters.
So while Boston prides itself in being one of America's oldest cities, it's also a contemporary city hungry for more.
At the western end of Downtown Boston, you find the tree-dotted city park Boston Common (the Freedom Trail's starting point). At its east, the sparkling Boston Harbor invites you to the popular New England Aquarium and Boston Tea Party Ships & Museum.
Want to explore other neighborhoods? Downtown Boston is ringed by the North End, Seaport District, Beacon Hill, Back Bay, West End and South End areas; this location both figuratively and literally puts you in Boston's heart.
Pick Downtown Boston for: Best sightseeing.
Recommended hotels in Downtown Boston
Godfrey Hotel
Steps from Boston Common, the Godfrey Hotel presents modern accommodation at the heart of your Boston experience. Choose from efficient queen and king rooms, and, for those who crave for more space, spacious lofts.
Harborside Inn
In the notoriously expensive Financial District, the boutique-style Harborside Inn stands out as an elegant yet more affordable option.
Canopy By Hilton
It's hard to pick what's better at the Canopy by Hilton: Its immaculate rooms or the (thanks to the adjacent Carolyn Lynch Gardens) surprisingly lush city view. When hunger calls, walk over to the Italian food mecca of the North End.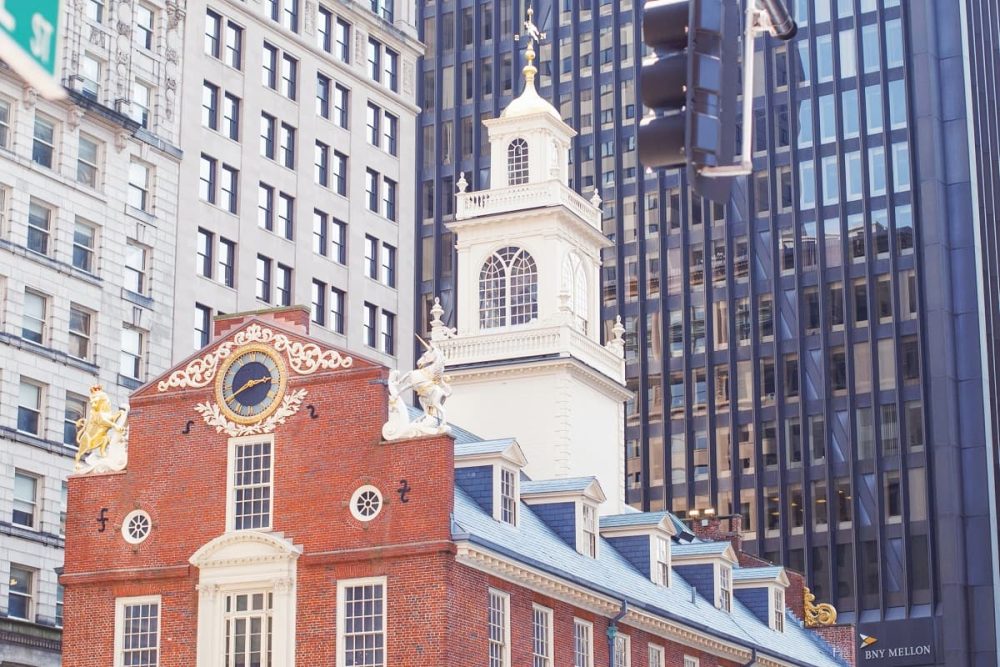 North End
In the 1630s, European settlers made today's North End the first residential neighborhood in Boston. Its long yet protected waterfront is a reason as compelling nowadays as it was then, but that's only the beginning of the North End's appeal.
The North End holds the halfway portion of the Freedom Trail, which runs from Boston Common to (across Charles River) the Charlestown neighborhood. Therefore, the North End is a convenient location for those who prefer to break up the walk in two.
Within the North End itself, be sure to tick off the history-steeped Paul Revere House, Old North Church and Copp's Hill Burying Ground.
The North End boasts a strong Italian heritage, making up the Little Italy of Boston. To best take advantage of this, sit down at one of the many Italian-American restaurants flanking the neighborhood's main streets, Hanover and Salem.
But beware: The abundance of mouthwatering pasta and pizza options may be overwhelming here. A great pick for a special occasion, the romantic Mamma Maria brilliantly blends Italy with New England.
Pick North End for: Boston's Little Italy.
Recommended hotels in North End
Boston Yacht Haven
Be wowed by Boston Yacht Haven, set at the end of the North End's Commercial Wharf. This nautically-themed waterfront hotel is an upscale home away from home, where the views are second to none.
Charlestown says hi: There's a Boston neighborhood across the mouth of Charles River too: Charlestown. Here, you find the final two stops of the Freedom Trail, the 1797 USS Constitution and Bunker Hill Monument.
Seaport District
On the other side of the Fort Point Channel from Downtown Boston, the Seaport District showcases Boston's willingness to expand. This area has developed from a busy commercial port around the early 1900s to an abandoned warehouse area in the mid 1900s to, what you see today, one of Boston's trendiest entertainment hubs.
If you crave for something to eat or drink, you're in exactly the right place. The vibrating Seaport District brims with dining opportunities — ranging from the casual, beloved Barking Crab to the the loud, Mediterranean-inspired Committee — and fancy cocktail bars, providing a memorable scene for a night out.
To fully appreciate the polished waterfront setting, stroll the Harborwalk through Fan Pier Park. While it's a pretty walk at any time during the day, consider a visit around sunset — seeing Boston's cityscape light up from here is magical.
What about attractions? The Seaport District houses the architectural-masterpiece Institute of Contemporary Art (ICA), presenting creative exhibits and an awe-inspiring waterfront location. And, you can reach the Freedom Trail in the adjacent Downtown Boston within 20 minutes' walk.
Pick Seaport District for: Waterfront entertainment.
Recommended hotels in Seaport District
Seaport Hotel
With decoration feeling more homey and less hotely, settling in at the Seaport Hotel is easy. The most sought-after rooms feature calming views of Boston Harbor.
Hampton Inn Boston Seaport
Traveling with kids? Families appreciate the room flexibility at Boston Seaport's Hampton Inn, providing some spaces that sleep 6 guests. It may be slightly away from the attractions, but the value is unmistakable.
Cape Cod bound? During the summer season, ferries run directly from Boston to Provincetown on Cape Cod. Check with City Cruises or Bay State Cruise Company for more info.
Beacon Hill
Beacon Hill wonderfully contrasts the towering skyscrapers of the Financial District: Picture narrow cobblestoned streets (such as the social media-favorite Acorn Street) flanked by red-bricked rowhouses and swaying American flags.
On top of good looks, Beacon Hill makes Boston sightseeing effortless. Perched on the neighborhood's top, the stately 1798 Massachusetts State House overlooks Boston Common, marking the start of the famous Freedom Trail.
But Beacon Hill has its very own historic trail. Snake through the 1.6-mile Black Heritage Trail to learn about the its African-American background and the cradle of Boston's abolitionist movement; the experience culminates at the Museum of African American History, encompassing the Abiel Smith School and African Meeting House.
History lovers, foodies and shoppers alike frequent the north-south Charles Street. This small yet appreciated neighborhood hub provides an eclectic selection of tasty restaurants and independent shops.
Pick Beacon Hill for: Cobblestone charm.
Recommended hotels on Beacon Hill
The Whitney Hotel
There are many luxury hotels, but few are as friendly as The Whitney Hotel. Ask the staff about the best gems of its home avenue, the delightful Charles Street.
West End
Living a life in the shadows of the surrounding Downtown Boston, North End and Beacon Hill, the West End is a Boston enclave that many visitors never set foot in. Yet, for sports and concerts, it's the place to be in Boston.
The West End's TD Garden, or historically Boston Garden, is the home of the Boston Celtics (basketball) and Boston Bruins (ice hockey). The arena also hosts concerts by a wide range of world-famous artists.
If you want to combine a TD Garden event with Boston sightseeing, that's highly doable. You can walk from the West End to most spots of the Freedom Trail in 20 minutes or less.
Pick West End for: TD Garden events.
Back Bay
Hidden for seafarers docking in Boston Harbor, Back Bay is characterized by its photogenic rows of 19th-century brownstone homes and green oceanfront promenade, the Charles River Esplanade. And one more thing: Shopping.
Running east-west from Boston Public Garden, Newbury Street treats visitors with a unique shopping experience. What makes it outstanding is the variation: Plunge into a mix of fancy brand boutiques, browse quirky independent shops and find bargains at those household-name retailers.
If you want more, continue on the parallel Boylton Street. If it rains, just head over to the connected malls of Prudential Center and Copley Place. Back Bay truly is the place to stay in Boston where you can shop until you drop.
But be sure to allow time for a stop at the eye-catching Boston Public Library. Enter to enjoy impressive art and architecture, from the vestibule and grand staircase to Bates Hall, the main reading room, and the courtyard.
After a long day out, there's neither a shortage of opportunities to refuel. Completing the Back Bay experience, trendy cafés, mouthwatering restaurants and elegant hotels make visitors come back for more.
What's negative about staying in Back Bay? While the shopping and dining scene is top-notch, the neighborhood puts you slightly away from Boston's most famous historic attractions. It's 20 minutes by foot from the heart of Back Bay to the beginning of the Freedom Trail; to The Paul Revere House, make that 40 minutes.
Pick West End for: Best shopping.
Recommended hotels in Back Bay
The Newbury
At Back Bay's eastern edge, the luxurious The Newbury shakes hands with Downtown Boston. Though the location balances shopping and sightseeing interests splendidly, the carefully refined rooms (some facing the Public Garden) are even better.
The Lenox
History and comfort align at The Lenox, sitting at the heart of the vibrating Back Bay District. High ceilings make each room feel spacious, but the larger executive rooms have fireplace for extra coziness factor.
The Eliot
The Eliot boasts guestrooms and suites with European flair, such as Parisian-style floor-to-ceiling curtains and Italian marble. As a nice bonus, the on-site Uni Restaurant serves a yummy Asian-inspired street food menu.
Where else can I shop? Back Bay is loaded with shopping opportunities (probably way more than you need). Elsewhere in Boston, the bustling Downtown Crossing, historic Faneuil Hall and laid-back Charles Street are favorite spots.
Catch a baseball game: Baseball fans flock to the Fenway-Kenmore neighborhood, located west of Back Bay. The big draw is, of course, Fenway Park and the Boston Red Sox.
South End
While "Boston" and "budget-friendly" rarely fit in the same sentence, the South End (hidden south of the main action) at least makes an honorable try. But don't take it for granted: This area has those quintessential Boston attributes that may turn it into a future hot spot.
Wander Tremont Street, connecting the South End to Downtown Boston, beautifully flanked by tree-lined sidewalks and Victorian row houses. Elevating the atmosphere further, numerous buzzing restaurants and bars call the South End home, including the crowd-pleasing Barcelona Wine Bar.
As South End is an off-the-beaten-path option for where to stay in Boston, it offers more bang for your buck than other locations. Yet you can reach Back Bay and Downtown Boston highlights within 20 minutes' walk.
Recommended hotels in South End
The Revolution Hotel
A minimalistic yet cool place to recharge, The Revolution Hotel can feel like a revolution for visitors looking for budget-friendliness. To fully stretch your hard-earned dollars, opt for rooms with "bathroom down the hall".
Boston's Chinatown: There's a Chinatown neighborhood in Boston too, sandwiched between Downtown Boston and South End. Although the lodging options are extremely limited here, its flavorful bakeries and restaurants are strong reasons to visit. Don't miss the symbolic, picturesque Chinatown Gate.
Cambridge
From a tourist's perspective (non-professors, at least), it's not obvious that Cambridge is its own city. But it is; lying across Charles River, Cambridge is its own city within the Greater Boston area.
Here, the high intellectual level is unmistakable.
Stroll the leafy, student-filled Harvard Yard, where bright minds have shared ideas since the 1600s. For the best experience, take a guided Harvard University tour covering all from its history as America's oldest higher-learning institute to modern-day insights.
Outside those exclusive gates, Harvard Square functions as the commercial hub of Cambridge. Its myriad coffee-serving hangouts, casual eateries and easygoing bars cater to students, locals and visitors alike.
Extending along the bank of Charles River, Massachusetts Institute of Technology adds inspiring creativity to the Boston map. Nearby Kendall Square, with a jaw-dropping amount of tech companies, is said to be the planet's most innovative square mile.
Pick Cambridge for: Unbeatable sophistication.
Recommended hotels in Cambridge
The Charles Hotel
You can almost feel how your IQ increases as you check in at The Charles Hotel, in the first row for higher learning. Expect stylish shaker furniture and timeless decorations, fitting the bill perfectly for a Harvard hotel.
Where to stay in Boston FAQ
Here you find the answers to some frequently asked questions about where to stay in Boston, Massachusetts.
Where should I stay when visiting Boston?
A patchwork of colorful neighborhoods make up Boston, and the best option for where to stay when visiting Boston depends on your personal preferences. While Downtown Boston stands out for its convenience, each of the North End, Seaport District, Beacon Hill, Back Bay, West End, South End and Cambridge has its own unique draw.
Where to stay in Boston to walk everywhere?
Boston's compact size means great walkability. In particular, Downtown Boston makes it easy to reach most, if not all, important sights by foot. Here, you have the Freedom Trail at your fingertips and effortlessly venture into the appealing array of neighboring districts.
Where to stay in Boston for shopping?
Let's be clear: Back Bay is the best place to stay in Boston for shopping. Browse the stores and soak up the atmosphere on the adorable Newbury Street and Boylton Street. Or, if you prefer a mall experience, the Prudential Center and Copley Place have you covered.
Where to stay in Boston with family?
The downtown area's oceanfront stretch and the Seaport District are top options for where to stay in Boston with family. First, while these locations are close to the main action, they're still sheltered from most of the "city craziness". Second, this is where you find the lovely New England Aquarium, a must on the itinerary for most families with kids.
Which are the most unique places to stay in Boston?
Offering awe-inspiring Boston Harbor views, Boston Yacht Haven is an inn with that little extra. Other unique places to stay in Boston include Beacon Hill's The Whitney Hotel and Back Bay's The Lenox.
Crave for more New England? Check out the best things to do in New England and the unforgettable New England road trip.