The Fort Myers area is well-known for its dream-like beaches and tropical setting. But where to stay in Fort Myers and vicinity for that perfect Florida vacation?
Downtown Fort Myers, Fort Myers Beach, Sanibel Island and Captiva Island are all great options for where to stay when you visit the Fort Myers area.
Sorry about the disclaimer. We just want to let you know that this site can exist thanks to compensation received from advertising and affiliate links. Read the full disclosure here.
Staying in Downtown Fort Myers
Downtown Fort Myers, also called the River District, stretches out along Caloosahatchee River and the area has a large concentration of historic structures still standing.
Once this was only a military post, before it became a place for farming. But in the building boom in the early 1900s people started to realize how optimal the Florida location was. Since then it has just continued to grow as a residential and vacational spot.
In Fort Myers Downtown Commercial District you find a high density of shops, cafés, restaurants and bars. And downtown is very walking friendly so you don't need a car when seeing the area out. If you're up for it you can walk to Centennial Park and the marina down by the river to extend the exploration.
Thomas Edison and Henry Ford were two people who enjoyed the area very much. And if you stay in the River District you are very close to the top attraction of the city, Edison & Ford Winter Estates. There you can enter the historic homes and fall in love in the beautiful gardens.
All in all, in the River District you get that home town feeling with all the quaint businesses and a city center that appears to be just of the right size.
While this is just like you can imagine an American downtown in the South with brick lined sidewalks and palm trees, it is rather far away from the beach. Under good traffic conditions you can get from downtown to the beach in 30 minutes by car.
The bottom line is that if you're after a beach vacation you should stay in any of the other recommended Fort Myers areas with direct beach access. If not, the River District is a great option for where to stay in Fort Myers.
When you stay in Downtown Fort Myers you have good access to the attractions of the city and nightlife right at your doorsteps. You can without any hassle walk the charming streets and pick your favorite restaurant or bar to enjoy cocktails throughout the warm Florida nights.
Staying on Fort Myers Beach
For a traditional beach vacation with the possibility of some late nights out, Fort Myers Beach is hands down the best option when you decide where to stay.
Located on Estero Island, Fort Myers Beach offers mile after mile of sandy dunes. It can get rather busy on the northern end of the beach where most shops, restaurant and bars can be found. This area is called Times Square.
The further south you go, the more peace you can find. So Fort Myers Beach can offer both loud and quiet beach days. And when you want that liveliness you have it on the northern end of the island.
From Fort Myers Beach you have about 30 minutes to get to Downtown Fort Myers and the same amount of time to reach Sanibel Island. That way it's also a convenient location for day trips to other places in the Fort Myers area.
So to sum up whether to stay on Fort Myers Beach or not. If you want a beach destination with restaurants and nightlife nearby, staying on Fort Myers Beach is undoubtedly the best option.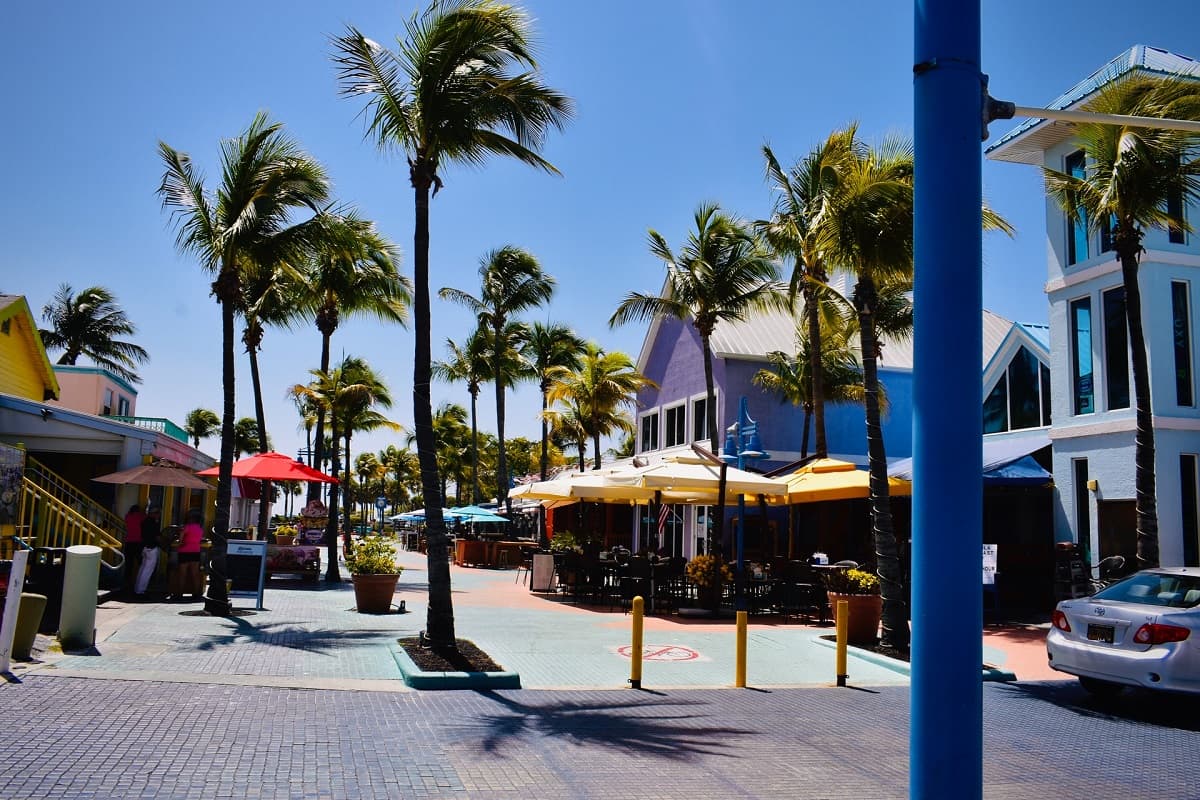 Staying on Sanibel Island
If you're after a quiet Florida beach vacation in an exceptional setting, Sanibel Island is a great choice for where to stay in the Fort Myers area.
Sanibel island is very popular especially for couples and families. Here you are always close to nature. Unwinding and exploring nature are priorities. Biking, shelling and bird-watching are popular activities to do during the days.
You certainly find a good selection of restaurants and some cool bars on the island too. But Sanibel Island is not the place for that big night out.
For more action you have about 45 minutes to Downtown Fort Myers with Edison & Ford Winter Estates and 30 minutes to Fort Myers Beach.
In a way Sanibel Island is a great compromise when you decide where to stay in the Fort Myers area. Here you have beautiful nature in a very peaceful and relaxing setting, but still all the restaurants and bars you need for a great vacation.
Staying on Captiva Island
It's easy to think of Sanibel Island and Captiva Island as interchangeable. And in many ways it's true that they are pretty similar. But, on some terms they also differ. That you need to take into consideration when you decide where to stay in the Fort Myers area.
Captiva Island is located north of Sanibel Island. The two islands are connected by a bridge across Blind Pass that separates the two. As Captiva is further away from the mainland, it manages to be even more quiet and laid back than Sanibel.
Captiva is also much smaller and narrower than Sanibel. From many spots you can see both the Mexican Gulf and the sound side. And as Captiva reaches out from north to south compared to the more banana shaped east to west form of Sanibel, the sun sets right in front of you every night.
On Captiva you find an assortment of shops and restaurants. But when it comes to selection it's not as big as it is on Sanibel. On the other hand if you feel like you want to try something new, you can always make the drive over to the other island.
From the eastern end of Sanibel it takes about 20 minutes to get to Captiva. Add 30 minutes to reach Fort Myers Beach or 45 minutes to get to Downtown Fort Myers.
The whole northern tip of Captiva is owned by South Seas Resort. If you want upscale living during your vacation, you have found your place. Here you can enjoy landscaped grounds, a 9 hole gold course and resort facilities.
In a way Captiva Island is the downsized version of Sanibel, but not at all in a bad way. Captiva is the best choice for where to stay in the Fort Myers area if you want to get away from it all and like the idea of an escape with less to do, fewer people to run into and all in all a quieter time.
Search for a hotel in Fort Myers
Use the booking tool below to find the perfect accommodation for your stay in the Fort Myers area. Browse the map for options in various areas, or click on the search button to get all accommodation options listed.
Where to stay in Fort Myers FAQ
Here you find the answers to some frequently asked questions about where to stay in the Fort Myers area.
Does Fort Myers have good beaches?
Fort Myers Beach sits on Estero Island which is about 6 miles (10 km) in length with a fabulous shoreline. The sand is sugary white and the beach has many access points throughout the island. Here you also find all the restaurants, bars and shops you need for a comfortable day on the beach.
Is Fort Myers Beach or Sanibel Island better?
Fort Myers Beach is a much more lively place with restaurants, bars and shops right at the beach. In contrast, Sanibel Island is quieter and more about spending time in nature. Both places have great shorelines for amazing vacations in the Fort Myers area.
Continue reading
The perfect itinerary for a Fort Myers Beach vacation, Florida >>