Zion National Park offers cream, pink and red sandstone cliffs, green canyon floors and blue skies. Here you have all you need to enjoy great scenery and amazing hikes.
The park is located in Southwestern Utah, just outside Springdale. That it opened already in 1919 makes it the oldest national park in Utah. The fantastic environment in the park makes it a crown jewel you shouldn't miss out on.
Zion's environment is spectacular
Zion National Park is characterized by deep canyons with sandstone cliffs and a contrasting diverse green fauna. Its 229 square miles (590 km²) is home to more than a thousand species of plants that grow in Zion, some of them being evergreen and therefore always breaking off the cream, pink and red sandstone cliffs.
Much of the diverse fauna in Zion is made possible by the elevation changes within the park. The highest point Horse Ranch Mountain is 8,726 feet (2660 m) compared to the lowest point of 3,666 feet (1117 m) at Coal Pits Wash.
Sorry about the disclaimer. We just want to let you know that this site can exist thanks to advertising and including affiliate links. Read the full disclosure here.
Just as the fauna is diverse so is the wildlife. The park contains approximately 78 different species of mammals including mule deer, foxes, big horn sheep and squirrels. In addition to that a great amount of different species of reptiles, amphibians, fish and birds also like to call Zion their home.
The way Zion has formed has set up a fantastic environment for plants and animals to thrive. And the best way to find out more about the beauty of Zion is by hiking.
Hiking in Zion
Hiking allows you to explore Zion and discover your own gems. There are different types of hiking challenges depending on what you're after. Some are more family oriented with easier and shorter trails while others are more demanding. As rather experienced hikers we did two of the more demanding ones and we really loved it.
Angels Landing
Sometimes it's about the journey and not about where you end up, or at least about the journey as much as the destination. Certainly, this is the case for Angels Landing. Of course the scenic views on the way up to the top of Angels Landing are spectacular, but it's the narrow and thrilling climb that the hike is especially known for.
At some stretches the trail is just a few feet wide with big drops on both sides. So there you need to use chains to get through and just getting through will catch most of your attention. But if you have the courage (or stupidity, depending on how you see it) to look down from where you climb you can enjoy some of the great scenery that Zion National Park has to offer.
Before you decide to do Angels Landing, have in mind that the narrow climbs are dangerous. So avoid it if you have fear of heights, lack a good physical fitness or bring young kids.
The challenging and to some extent dangerous hike of Angels Landing is 5 miles (8 km), has an elevation change of 1500 feet (457 m) along the trail and you should reserve 2-5 hours for it.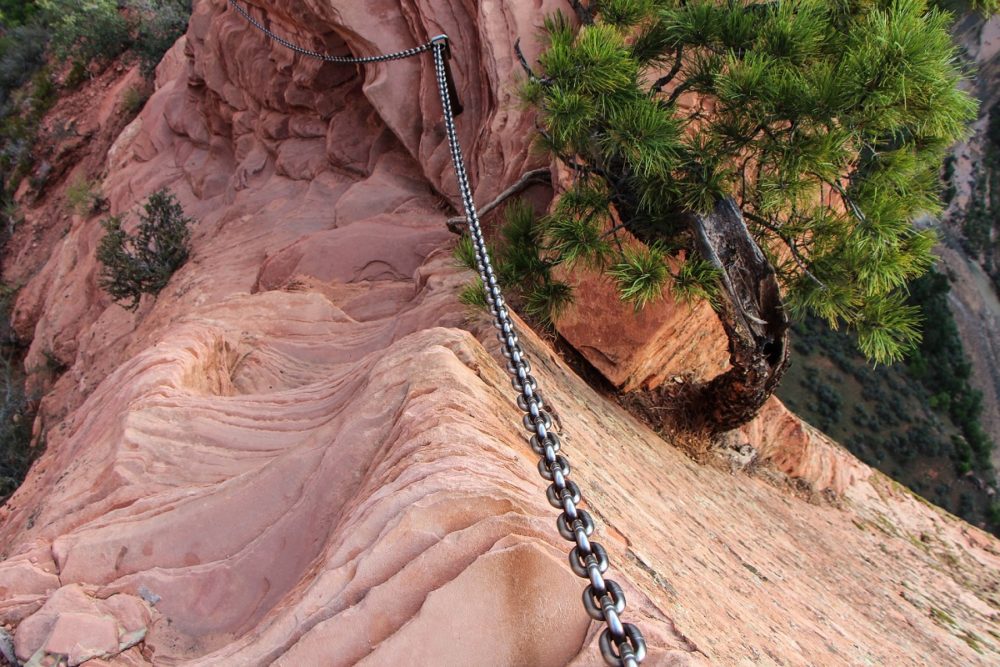 Observation Point
Another great hiking option in Zion is the trail to Observation Point. It really makes your jaw drop. The views from the top are spectacular. They are the best in the Park.
From Observation Point you get a great overlook over Zion and you even get to see Angels Landing from above. The high elevation makes you able to get another perspective of Zion National Park than the one you get from the lower elevated Angels Landing.
The hard to beat trail of 8 miles (13 km), has an elevation gain of 2100 feet (640 m) along the trail and it takes about 3-7 hours to complete depending on your pace.
Should you pick Angels Landing or Observation Point?
There are some differences to have in mind when you pick. But unfortunately fallen rocks and storm damage could cause trails to temporarily close. So check the current status of the park before you decide which one to go for. But if both are available and you want to pick just one, should you pick Angels Landing or Observation point?
There's no doubt about that both hikes are strenuous. But they have somewhat different characteristics. Observation Point is longer than Angels Landing, has a higher elevation gain and takes longer to complete. Angels Landing is narrower and therefore less appropriate if you lack good balance, steady feet or just simply don't like heights. The strenuousness is there, but in a different way compared to Observation Point.
Above all both Zion hikes are incredibly beautiful. But if you want to put the thrill aspect away and just go for the most beautiful views, then Observation Point is the winner.
What we learned from our Zion visit
A hot Zion could be hotter than you think
Always when you visit Zion you should bring water. In summer you should bring more than you think. During our first day in Zion, in the middle of the summer, we hiked to the Top Observation Point. Of course we brought bags and water but we thought that one large bottle each would be enough for a hike of that length.
On our way up through the first stretch a visitor on his way down politely asked how much water we had. So we showed the gentleman the water we had and he strongly recommended us to go back for more. We didn't, but in hindsight I can tell you that we should have taken his advice. Because in the hot Zion conditions you should bring two or even three times more water than you usually would. In the summer the canyon in the park faces extreme temperatures, regularly over 100 degrees F (38 C).
Zion is crowded but that's not all negative
When you hike the popular trails you meet a lot of other people doing the same thing. Some stretches you walk in solitude but every now or then you bump into other visitors. This could be bad if you look for a private experience, but it could also be good if you make the best out of it.
The people you meet along the trail have the same goals as you have, to enjoy the beautiful Zion National Park. So get advice from people coming from where you are heading, ask someone to take a picture for you or just be comfortable knowing that if anything bad would happen help is always available not too far away.
The scenic views are even more amazing than the pictures show
Some places you visit could feel overexposed, too hyped or beautiful but not like you thought. Zion is certainly not one of those places. The red sandstone cliffs, the green canyon and the blue skies are spectacular.
Where should you base yourself when visiting Zion National Park?
If you want to stay within the park you can camp in the given campgrounds or stay at Zion National Park Lodge. Some hiking trails start at the lodge and the benefit of staying there is that you can have some quality time in the park when the daily visitors are gone. But the lodge is booked up very quickly, so you need to be out early or be very lucky.
Springdale is the closest town to Zion, and it's really close. There you find nice hotels to stay at. From Springdale you reach the entrance to the park in just a few minutes. So as Springdale is located just at the gateway to Zion, it gives you the better of two worlds. That is to say you can spend the days in nature and go out for dinner at restaurants at night and sleep in your comfortable hotel bed.
But we chose to base ourselves in La Verkin, which is about 20 miles west of Springdale. The latter is more comfortable due to how close it is to the entrance of Zion. However, overall we were fine with driving the 20 minutes to get to the park. Further west from La Verkin you find Sankt George with even more hotel options.
Other places to visit in the area
The Southwestern part of the US has a lot to offer. So say that you have a lot to see within a few hours ride is not an overstatement. From Zion National Park there's roughly 80 miles (128 km) to Bryce Canyon, Horseshoe Bend and Antelope Canyon are about 120 miles (192 km) away and Las Vegas is about 160 miles (256 km) away.
We made a loop and visited all these places and also included Grand Canyon and Monument Valley when we did our Southwestern desert road trip.
Read more: The Southwestern desert road trip >>