The Shipshewana area in Indiana is home to one of the largest Amish communities in the US. Great things to do in Shipshewana include to learn the Amish history and see the area from a buggy ride. In welcoming Shipshewana, modern life meets old and well kept traditions.
We can exist thanks to compensation from advertising including affiliate links. Learn more ›
Visiting Shipshewana
How to get to Shipshewana
Shipshewana is located in LaGrange County in Northern Indiana just 11 miles (18 km) from the Michigan border.
Many people going to Shipshewana drive from Chicago or Detroit. Driving times from the two cities are between 2 and 3 hours, with Chicago being the nearer city.
If you come by plane South Bend International Airport (SBN), Fort Wayne International Airport (FWA) and Kalamazoo/Battle Creek International Airport (AZO) are all within around one hour by car.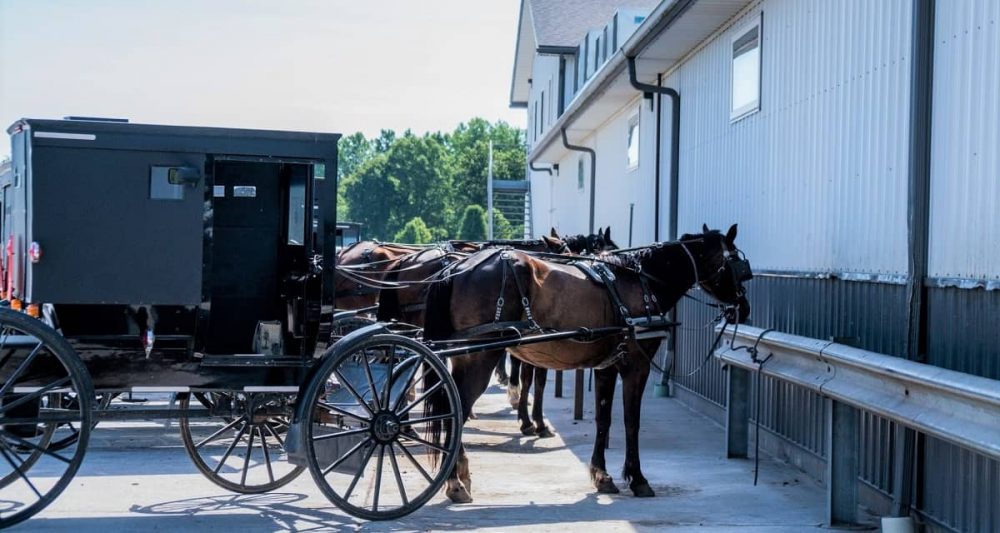 What to expect when visiting Shipshewana
Amish people live simple lives. They don't like to complicate things and strive for naturalness. The locals call it "Shipshe" and it could have a varied meaning, but the expression is most of all symbolizing the simplicity that Amish life stands for.
Extravagant attractions isn't the Amish way. From a visitor's perspective it's more a laid-back place for simple activities like strolling at the corn fields, people watching and enjoying peaceful meals.
Tradition keeps most businesses closed Sundays and don't expect establishments to be open til late. Consequently, Sundays and evenings are best spent enjoying the peacefulness and all the scenic views in the area. But that's part of the experience when you visit Shipshewana. In Shipshewana you can turn off for a while and just spend some quality time without any distractions.
Entering Shipshewana in Indiana is in many ways like stepping back in time. Just a couple of miles takes you hundreds of years away.
Best things to do in Shipshewana
A visit to Shipshewana is all about experiencing Northern Indiana and the Amish culture. Here the best things to do in Shipshewana are listed.
Learn the Amish story
In Shipshewana you above all appreciate the old way of life. But how did the Amish tradition start? The best thing to do in Shipshewana to explore the Amish history is to go to the Menno-Hof Visitor Center. At Menno-Hof Visitor Center you get to learn all about the origin of the Amish culture. The creative and interactive displays further increase your understanding for the Amish faith and life.
See Shipshewana from a buggy ride
If you want to see the area the traditional way a buggy ride tour is a very memorable thing to do in Shipshewana. Buggy Lane Tours in Downtown Shipshewana takes you to see all the things you love about the Indiana countryside, from golden corn fields to elegant white painted houses. And different types of tours are available depending on your preferences. So pick from very short buggy rides down the main street to longer and deeper buggy ride experiences. Short or long, an Amish buggy ride tour is one of the best things to do in Shipshewana.
Visit the Flea Market
The Flea Market in Shipshewana is the region's largest and a highlight when visiting Shipshewana. At the outdoor Flea Market in Shipshewana you find a wide range of products to buy. Get yourself a deal on anything from crafts and home decor to plants and beauty supplies. The Flea Market in Shipshewana is certainly a great place for making unique finds. Make sure that you check the Flea Market dates and hours before you go.
Dutch Creek Animal Park
Just a short drive from Downtown Shipshewana you find Dutch Creek Animal Park. At the Shipshewana animal park you get the opportunity to meet and feed both domestic and exotic animals. A stop at Dutch Creek Animal Park is one of the most popular things to do in Shipshewana and one that the whole family enjoys.
Try some local treats
Shipshewana is full of locally produced treats to try when you visit the area. And Yoder Popcorn is the ultimate place for the popcorn lover. At Yoder Popcorn you can buy all the popcorn you crave for as well as seasoning and accessories. And if you're lucky you might even get a free sample when you visit the Shipshewana popcorn store.
Catch a show at Blue Gate Theatre
Blue Gate Theatre has become an institution in Shipshewana and is the best place to visit for evening entertainment. Its live entertainment schedule with around 300 shows a year is nothing less than impressive. A dinner and a show at Blue Gate Theatre is an amazing way to end a unique day in Shipshewana.
Road trip Amish country
Shipshewana is not the only beautiful Amish town and area in the state of Indiana. A slow-paced road trip on the picturesque Amish countryside is revitalizing and one of the best things to do when visiting Shipshewana. A popular trip to make from Shipshewana is the short drive west to Das Dutchman Essenhaus in nearby Middlebury. At Das Dutchman Essenhaus you can get a tasty traditional home-cooked Amish meal. But no matter if you go there or in another direction you will find charming and harmonious surroundings.
Visiting Shipshewana FAQ
You find the answers to some frequently asked questions about visiting Shipshewana in Indiana below.
What is Shipshewana known for?
Shipshewana is a unique destination in Northern Indiana that is home to one of the largest Amish communities in America. The Shipshewana area is known for its stunning surroundings and the simplicity that comes with the Amish lifestyle.
Is anything open in Shipshewana on a Sunday?
The Amish tradition is to keep businesses closed on Sundays. Therefore many restaurants, businesses and attractions in Shipshewana are closed on Sundays.
How far is Shipshewana from Chicago?
From Chicago to Shipshewana it's 129 miles (208 km) and a little over two hours by car.
Make the most of every trip with our newsletter delivered to your inbox.