The Shipshewana area in Indiana, home to one of the largest Amish communities in the USA, invites you to step back in time. Learn the Amish history, marvel at endless cornfields aboard a buggy ride and catch a one-of-a-kind show. While the best things to do in Shipshewana may be uncomplicated, that's exactly how it should be.
We can exist thanks to compensation from advertising including affiliate links. Learn more ›
How to get to Shipshewana
Shipshewana is located in LaGrange County in Northern Indiana, just 11 miles (18 km) from the Michigan border.
Many people going to Shipshewana drive from Chicago or Detroit. Driving times from these cities are between 2 and 3 hours, with Chicago being the nearer city.
If you come by plane, South Bend International Airport (SBN), Fort Wayne International Airport (FWA) and Kalamazoo/Battle Creek International Airport (AZO) are all within around one hour by car.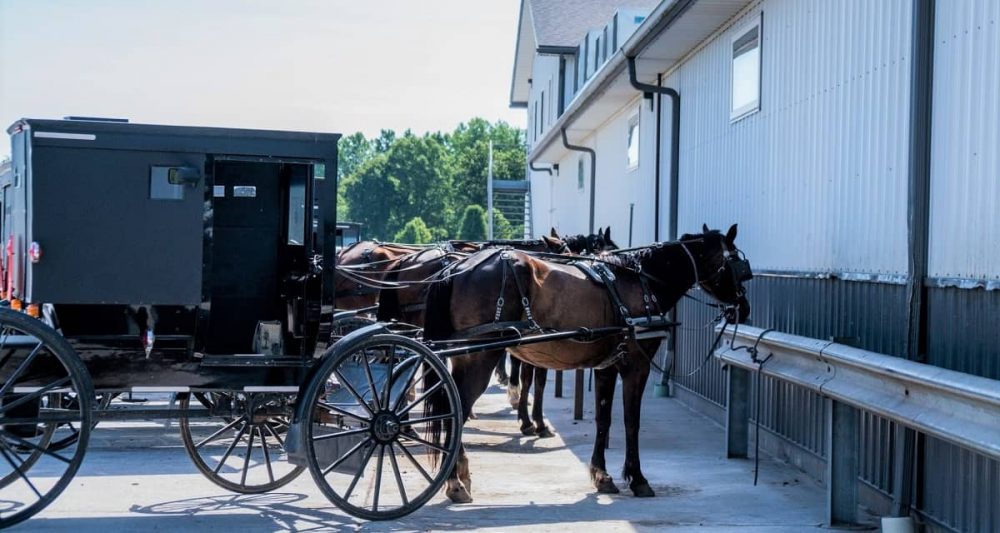 What to expect when visiting Shipshewana
Amish people live simple lives and strive for naturalness. The locals call it "Shipshe"; it could have a slightly varied meaning, but the expression most of all symbolizes the simplicity that Amish life stands for.
Extravagant attractions isn't the Amish way. From a visitor's perspective, it's more a laid-back place for simple activities like strolling through corn fields, people watching and enjoying peaceful meals.
Tradition keeps most businesses closed on Sundays, and don't expect establishments to be open until late. The famous Blue Gate Theatre runs popular evening shows, but that's pretty much it when it comes to nightlife.
Consequently, Sundays and evenings (if you don't catch a show) are best spent enjoying the peacefulness and all the scenic countryside views the area has to offer.
This is part of the Shipshewana experience. Finally, you can disconnect for a while and just spend some quality time without any distractions. Entering Shipshewana feels like stepping back in time; just a couple of miles takes you hundreds of years away.
Best things to do in Shipshewana
A visit to Shipshewana is all about experiencing Northern Indiana and the awe-inspiring Amish culture. Here are the best things to do in Shipshewana.
Learn the Amish story
In Shipshewana, you above all appreciate the old way of life. But how did the unique Amish tradition start?
Make your way over to the Menno-Hof Visitor Center to learn all about the history of the Amish culture. It's a fascinating journey from Switzerland to America spanning 500 years.
Creative and interactive displays not only help increasing your understanding for the Amish life but also make this a stop that both adults and kids can appreciate.
See Shipshewana from a buggy ride
If you want to see the Shipshewana area the traditional way, embark on a memorable buggy ride tour. The friendly Buggy Lane Tours in Downtown Shipshewana gladly presents all the things you love about the Indiana countryside, from golden corn fields to elegant white-painted houses.
A wide range of tours are available: Pick from very short buggy rides just down the main street or longer and deeper buggy ride experiences. Short or long, taking an Amish buggy ride tour is one of the best things to do in Shipshewana.
Visit the Flea Market
Want a trinket with you home from your Shipshewana visit? Shipshewana's seasonal flea market is the region's largest, with several hundreds of booths for you to inspect.
This is a great place for making unique finds. Get yourself a deal on anything from crafts and home decor to plants and beauty supplies — the sky is the limit.
Also keep an eye out for the seasonal produce stalls, providing vegetables and fruits as fresh as they come.
Typically, the flea market runs on select days from May to September. Make sure to check exact Flea Market dates and hours before you go.
Discover Dutch Creek Animal Park
Young visitors flock to Dutch Creek Animal Park, a scenic 10-minute drive from Downtown Shipshewana. Highlights here include meeting and feeding a surprising array of domestic and exotic animals.
Try some local treats
Defined by its undulating fields, Shipshewana is full of locally produced treats to try when you visit. For the popcorn lover, Yoder Popcorn is the number one place to check out.
At Yoder Popcorn, you can buy all the popcorn you crave for as well as seasoning and accessories. If you're lucky, you might even get a free sample when visiting the Shipshewana popcorn store.
Catch a show at Blue Gate Theatre
The best place in town for evening entertainment, vibrating Blue Gate Theatre has become an institution in Shipshewana. With around 300 shows a year, its live entertainment schedule is nothing less than impressive.
There're two different performance venues.
A 325-seat theater, the traditional Blue Gate Theatre — also known as Blue Gate Music Hall — is located at the very heart of Shipshewana. Adjoining the theatre, the Blue Gate Restaurant prepares delicious home-style meals.
The Blue Gate Performing Arts Center (PAC) is a newer 1500-seat venue sitting less than a mile south. This is across the street from the atmospheric Blue Gate Garden Inn, one of the best places to stay in Shipshewana.
Road trip Amish country
Shipshewana is not the only beautiful Amish town in the state of Indiana. A slow-paced road trip on the picturesque Amish countryside is like balsam for your soul.
North, south, east or west — harmonious surroundings await no matter what direction you go.
But be sure to include Das Dutchman Essenhaus in nearby Middlebury on your itinerary. Here, savor a meal at the restaurant serving traditional home-cooked Amish food and browse the cute collection of five gift shops.
Have a sweet tooth? Bring some goodies with you for the road from the lovely, pie-filled bakery.
Where to stay
While the peaceful setting may be enough to make you feel at home, Shipshewana prides itself in taking good care of Amish Country visitors. If you bed down in Shipshewana, you get to experience that heartwarming hospitality first hand.
Blue Gate Garden Inn – Next to the Blue Gate Performing Arts Center, the Blue Gate Garden Inn provides nicely appointed rooms, a kid-loved indoor swimming pool and, maybe best of all, Amish-style complimentary breakfast.
Farmstead Inn – This place to stay knows all about convenience. Embrace a spacious property across the street from the flea market, putting you in the ultimate location to tour Shipshewana by foot. Oh, and there's a lovely included hot breakfast and an inviting swimming pool too.
Visiting Shipshewana FAQ
What is Shipshewana known for?
A unique destination, Shipshewana in Northern Indiana is home to one of America's largest Amish communities. The Shipshewana area stands out for its peaceful cornfield surroundings and the simplicity that comes with the Amish lifestyle.
Is anything open in Shipshewana on a Sunday?
The Amish tradition keeps most Shipshewana businesses closed on Sundays. If you visit on a Sunday, enjoy the tranquility of a town having a day off, or take a road trip to the surrounding communities.
Which are the best hotels in Shipshewana?
The Blue Gate Garden Inn and Farmstead Inn are top places to stay in Shipshewana. Both offer impressive facilities accompanied by signature Amish Country hospitality and hearty complimentary breakfast.
Is Shipshewana walkable?
Shipshewana's main commercial area, encompassing shops and restaurants, is easily explored by foot. However, this is the Indiana countryside, where the car (or possibly buggy ride) is king.
How far is Shipshewana from Chicago?
From Chicago to Shipshewana, it's 129 miles (208 km) and a little over two hours by car.
Make the most of every trip with our newsletter delivered to your inbox.