In Key West you find the Southernmost Point of the continental US. And the endless summers and the unique quirky vibe attract visitors from wide and far. But where to stay in Key West for that optimal location?
Options are staying in Old Town, New Town or to venture an island away to Stock Island.
Sorry about the disclaimer. We just want to let you know that this site can exist thanks to compensation received from advertising and affiliate links. Read the full disclosure here.
Staying in Old Town of Key West
Old Town of Key West, also called the Historic District, is on the western part of the island. Here you find most of the tourist attractions.
Among them are the Southernmost Point, Mallory Square, Hemingway's old house and Duval Street with all its shops, restaurants and bars. On this end of the island you also find the best public beach, Fort Zachary Taylor Beach.
If you choose to stay in Old Town you have all the main attractions nearby. And that in turns mean that you won't be dependent on transportation to and from all the popular places to see. Instead, you can walk to most places of interest.
Though, prices in Old Town are generally higher compared to if you stay further away from the main areas.
So if you don't care about having walking distance to most places, staying in New Town or on Stock Island are both good options to find cheaper rates.
But if you want great access to all things to do and not be in need to think about getting back and forth from your hotel, Old Town is clearly for you. And undoubtedly, staying in the Historic District is the best way to get to know the quirkiness that Key West is so famous for.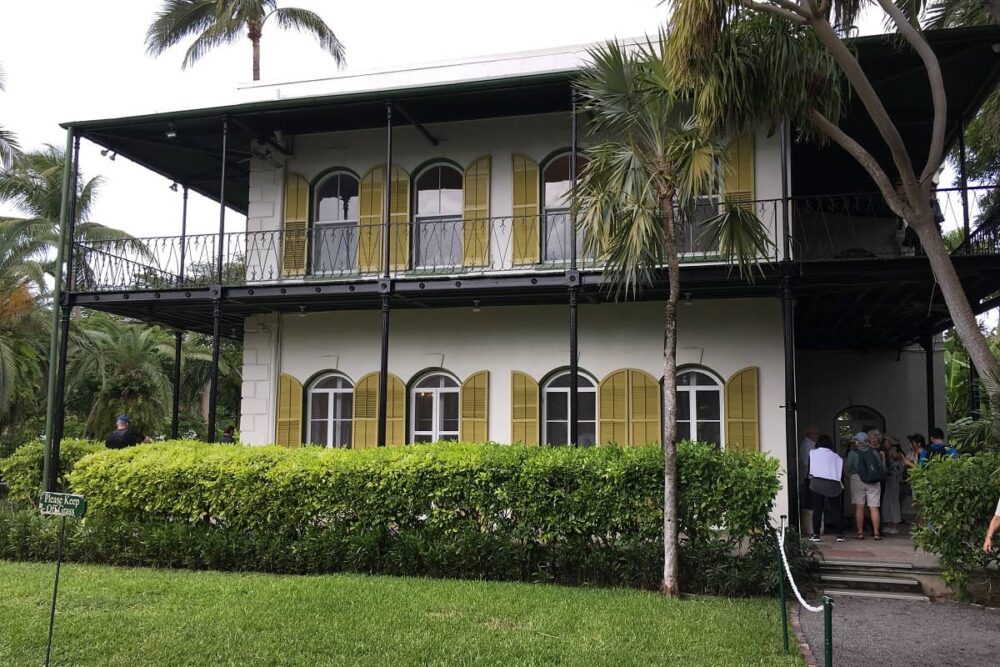 Staying in New Town of Key West
The area of Key West that is called New Town is the part of the island that is east of Old Town. Unlike if you stay in the Historic District, you don't have walking distance to most attractions if you stay here.
There are a few popular restaurants in Old Town that have appeal to both locals and visitors. But with that said, most of the priorities when you visit are located on the western end of the island.
This means that the rates you find in New Town often are a bit lower than rates in Old Town.
So if you want a vacation where you mostly hang out at the hotel pool and enjoy the endless summers, this could be a great way to save some money.
But if you frequently want to venture into the heart of Old Town, and have close to all the attractions, this isn't the choice for you.
Staying on Stock Island
Stock Island is the island next to Key West. If you drive the Overseas Highway from the mainland, Stock Island is the last island you pass before you enter the final key.
The island prouds itself on its full 18 hole golf course and several good places to eat.
But much like the situation when you stay in New Town, to reach the main attractions of the Historic Disctrict you will need to think about and spend time on transportation.
To get one way from Stock Island to Old Town takes about 15 minutes by car. Further away from Old Town means possibly cheaper deals though. So you can save by staying further away from Duval Street.
All in all, if you want a quiet vacation where you mostly hang out at the hotel pool in the sunny weather, staying on Stock Island is a great option.
However, if you plan to go a lot to Old Town and feel the special quirky culture of the city, this is too far way to be optimal.
Search for a hotel in Key West
Use the booking tool below to find the perfect accommodation for your stay in Key West. Browse the map for options in various areas, or click on the search button to get all options listed.
Where to stay in Key West FAQ
Here you find the answers to some frequently asked questions about where to stay in Key West.
What is the best location to stay in Key West?
If you want to be in the heart of Key West, the best place to stay is in Old Town on or near Duval Street. Here you have walking distance to a majority of the best attractions, restaurants, bars and shops. The southern part of Duval closer to Southernmost Point is good if you prefer it a little bit quiteter. For more buzz right at your door steps it's better to stay closer to Mallory Square on the north end of Duval Street.
What is the best area to stay in the Florida Keys?
The best way to see the Florida Keys is to spend some time in Key West and also at least a couple of nights in the middle or upper parts of the chain. That way you get to experience both the liveliness and quirky vibe of the main island and some of what the other more laid-back parts of the Keys have to offer. Take into consideration that in Key West you have a lot of restaurants, bars and gift shops in one place centered around Duval Street. In the middle or upper Keys you have less such options and a more quiet scene.
Continue reading
Ultimate guide for visiting Key West >>
Great Florida road trip from Orlando to Key West >>