Clearwater Beach in Central Florida is a destination with a lot on offer. Enjoy the famous beach, spot exotic animals and day trip an island away to discover even more on your Clearwater Beach vacation. The best things to do in Clearwater Beach highlight the beauty of Florida's dreamy Gulf Coast.
We can exist thanks to compensation from advertising including affiliate links. Learn more ›
Clearwater Beach guide
Clearwater Beach at a glance
Clearwater Beach is located on a barrier island on the Gulf Coast of Florida. Closely associated with its white and soft shoreline, Clearwater Beach is one of the most classic beach destinations in America.
Also home to resorts, restaurants and attractions, just steps from the Gulf of Mexico, it's a beach paradise that offers the whole package. The best things to do in Clearwater Beach include something for every mood.
The Pier 60 area of Clearwater Beach is full of attractions and liveliness. There something fun always is going on.
But if you prefer seclusion, it's easy to find those uncrowded beach spots on a Clearwater vacation too. Honeymoon Island, Caladesi Island and Sand Key Park feature soothing beaches within effortless reach from Clearwater Beach.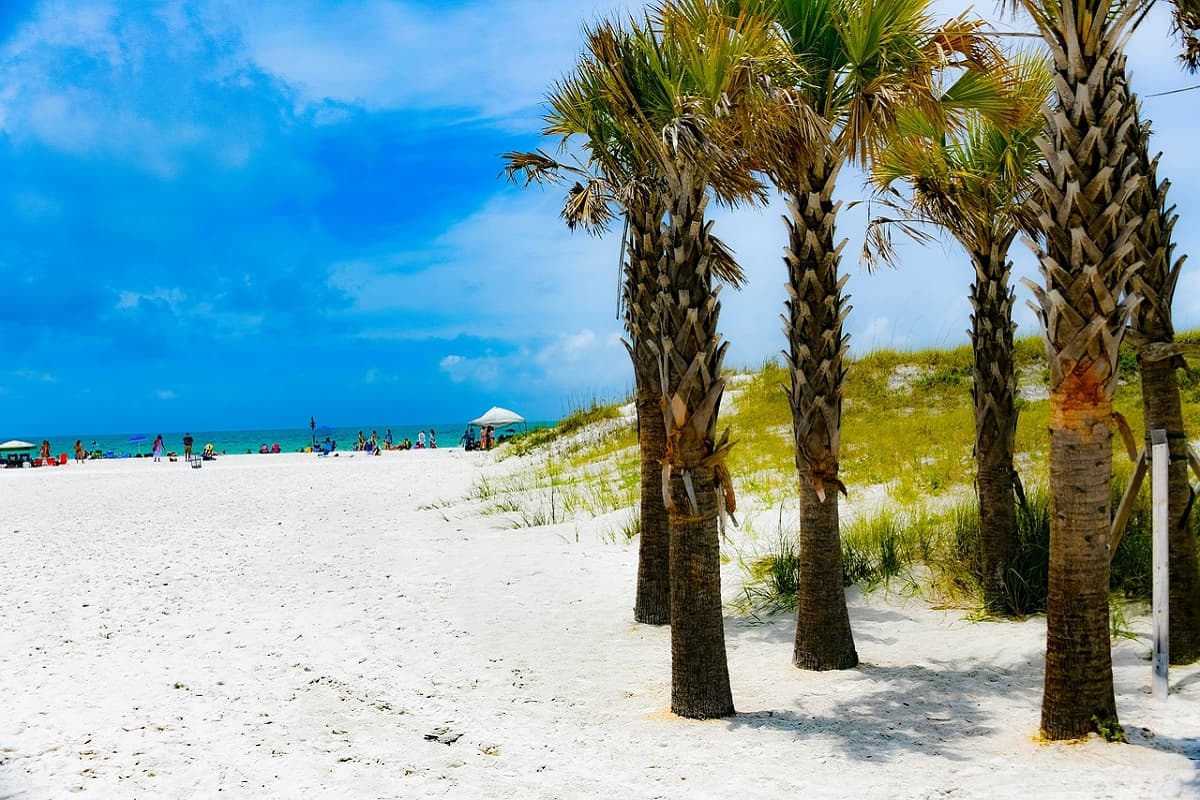 Best things to do in Clearwater Beach
From famous white beaches to secluded islands, the best things to do in Clearwater Beach are as appreciated by the beach bum as by the nature lover.
Soak up the sun on the celebrated beach
The main Clearwater Beach attraction is its white and sandy beach that stretches for about 2.5 miles (4 km) on Florida's western coastline.
Clearwater Beach consistently gets reviews as one of the best beaches in both Florida and America. People just love to visit Clearwater Beach.
But what makes Clearwater Beach such a popular American beach?
First of all, Clearwater Beach has that super-fine and sugar white sand that you wish your local beach had. And that the beach is extremely well maintained further adds to the picturesque look.
Secondly, the water is generally calmer on the Gulf Coast than on the Atlantic side of Florida. As it's more protected, the waves simply tend to be smaller. Hence the whole family peacefully can enjoy a Clearwater Beach vacation.
Try the island's restaurants, bars and shops
Clearwater Beach is not only about its white beach. The Florida destination is also home to plenty of distractions for fun times off the beach.
On the southern part of Clearwater Beach, centered around Pier 60, restaurants, bars, shops and attractions call for your attention. Within steps from the beach, you have all you need for a good time.
Further north on the island, you find a quieter ambience and fewer Clearwater Beach things to do. Up there, it's just you, the sand and the sun.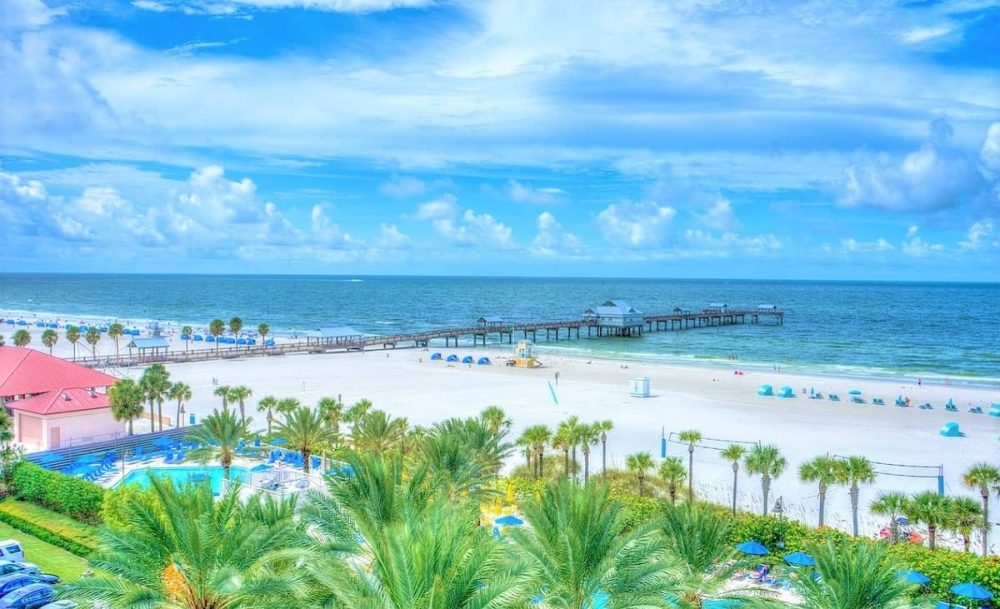 Stroll Clearwater's Pier 60
Pier 60 magnificently extends out into the blue Gulf of Mexico. The 1,080-foot long Clearwater Beach pier gives you a gorgeous view of the Florida shoreline.
On top of the remarkable perspective, local fishermen and curious pelicans add to the beautiful setting. Strolling Pier 60 is a Clearwater Beach activity that anyone can enjoy.
Although Pier 60 always is a great spot to visit, the view peaks during the last hours of the day. Then, as the sun slowly starts to set on the western horizon, Clearwater Beach turns into a color spectacle.
Sunset at Pier 60 is not only one of the best things to do in Clearwater Beach but also a proud Clearwater tradition.
Get to know the Clearwater Beach wildlife
For animal lovers, wildlife viewing is an unforgettable Clearwater Beach activity.
Loggerhead turtles nest and hatch along the beaches of western Florida from May through October. The area around Clearwater Beach is prime real estate for turtles.
Dolphins also love the Gulf of Mexico and Clearwater Beach. They frequent the Clearwater waters year round.
But maybe you don't feel lucky enough to spot these amazing Clearwater locals in the wild? Or, you feel incredibly lucky but still want to learn more about them?
If so, a rewarding Clearwater Beach thing to do is to head to Clearwater Marine Aquarium. There you, lucky or not, get to see and learn about rescued turtles, dolphins and other animals.
Take a Clearwater Beach boat tour
All aboard the vessel! A boat tour lets you see Clearwater Beach from a different perspective.
The views from a boat, capturing the blue Mexican Gulf and white Clearwater Beach shoreline, are incredibly hard to beat.
Dolphin cruises add the extra spice of dolphin sightings. Encountering local bottlenose dolphins is, young or old, an unforgettable Clearwater Beach experience.
Offering a more romantic ambience, a sunset cruise stands out as one of the best things to do in Clearwater Beach for couples. A sunset on the Gulf of Mexico is colorful joy of the highest level.
Escape to Honeymoon Island
A day trip to Honeymoon Island is one of the best things to do in Clearwater Beach when you need to recharge. Embrace a pristine escape from the hustle and bustle.
Home to Honeymoon Island State Park, the island offers 4 miles (6 km) of white beach. Its setting is perfect for relaxing, swimming, fishing, shelling and hiking.
Conveniently so, a bridge just 9 miles (14 km) from Clearwater Beach takes you from the Florida mainland to Honeymoon Island. So Honeymoon Island is also an easily accessible Clearwater attraction.
Explore Caladesi Island
Next to Clearwater Beach and south of Honeymoon Island, another serene island is located, Caladesi Island. Although the Hurricane Pass separates Caladesi Island and Honeymoon Island, they have a lot in common.
In fact, Caladesi Island and Honeymoon Island were once one. Before the Tampa Bay hurricance of 1921, the two Florida islands made up the bigger Hog Island.
Just like an island north, the environment on Caladesi Island is unspoiled. Caladesi Island State Park dutifully protects the island from development.
Also with a white beach, Caladesi Island is a bucket list island for the beach bum. But its short but sweet hiking trails, including Beach Loop and the Hammock Loop, in addition invites you to explore Caladesi past the white shoreline.
Without a bridge in place, most visitors get to Caladesi Island by ferry. The ferry to Caladesi Island departs from Honeymoon Island.
But you can also take a 3 miles (5 km) long hike from the northern end of Clearwater Beach to Caladesi Island. The surprisingly unknown land connection makes a Caladesi beach hike a hidden gem in Clearwater Beach.
Go to the close by Sand Key Park
On the Gulf Coast of Florida, a jaw-dropping beach is never far away. Even easier to access than Honeymoon Island and Caladesi Island is Sand Key Park.
In the southern direction, directly across the Sand Key Bridge, the peaceful Sand Key Park is located. It just takes minutes to get from the often busy Clearwater Beach to the quiet but equally stunning Sand Key Park.
For the days you want to beat the Clearwater Beach crowds, the accessibility of Sand Key Park is unbeatable. At Sand Key Park, you feel closer to nature without having to venture far from Clearwater Beach.
Where to stay
Clearwater Beach is a long and narrow island. So no matter where in Clearwater Beach you stay, the awe-inspiring shoreline is close by.
However, the busier southern part of the island gives you better access to the island's attractions. As you go north from Pier 60, you soon notice that the crowds start to thin out.
Hyatt Regency – In the heart of Clearwater
Just south of Pier 60, the Hyatt Regency showcases exactly why Clearwater Beach is so popular. Within steps you have both the stunning beach and Clearwater Beach attractions.
Sandpearl Resort – Just north of Pier 60
Sandpearl Resort is another magnificent choice if you want to stay close to the Clearwater Beach action. Slightly north of Pier 60, its position keeps you near the entertainment scene of Clearwater Beach.
Sheraton Sand Key Resort – A stone's throw away
It's not in Clearwater Beach, but Sheraton Sand Key Resort is just minutes away. Its location across the bridge from Clearwater Beach is quiet, yet you have all the best things to do in Clearwater Beach within easy reach.
Clearwater Beach trips and itineraries
Do you plan a bigger Clearwater Beach trip? Then check out these Clearwater Beach itineraries.
Orlando to Key West road trip
The Orlando to Key West drive is a top Florida road trip to take. From the entertainment capital Orlando to the quirky Key West, highlights along the way include not only Clearwater Beach but also Sanibel Island, Naples and the Everglades.
Conveniently so, Clearwater Beach is just about 2 hours away from Disney World in Orlando. So the two are a great pair to combine for a dream vacation.
The ultimate Gulf Coast road trip
If the best things to do in Clearwater Beach and South Florida aren't enough, don't miss out on the epic Gulf Coast journey. It takes you all the way from Texas to the southern tip of Florida.
Best things to do in Clearwater Beach FAQ
Here you find the answers to some frequently asked questions about visiting Clearwater Beach, Florida.
Is Clearwater Beach a good place to vacation?
Clearwater Beach has been named the best beach in the United States numerous times. In Clearwater Beach you find sugar white sand, a good variation of restaurants and activities for all ages to participate in.
Can you swim in Clearwater Beach in the winter?
The water temperature in Clearwater Beach generally drops to the upper 60°F (20°C) region in December. From then the temperature drops further to the middle 60°F (18°C) range until spring when it starts to heat up again.
How far is it from Clearwater Beach to Disney World?
From Clearwater Beach to Disney World in Orlando, it's 92 miles (148 km) and around 2 hours by car.
Make the most of every trip with our newsletter delivered to your inbox.