The west coast of Florida is often called the best coast for its beautiful beaches and the laid-back beach ambience. This Florida road trip itinerary takes you from the city of theme parks along the west coast all the way down to Key West and the end of the road in the southernmost point in the continental US. And of course we during this trip also need to pay a visit to the locals, the alligators. They are best seen on their home turf in the Everglades.
Click to zoom or expand the map.
A. The theme park capital Orlando
Orlando has world class theme parks. Disney World, Universal Studios, Islands of Adventure and Sea World among others could keep you busy for week(s). Add great shopping and a fun nightlife to that and you're in for a treat.
But Orlando itself is not only a fun place. It's also a great starting base before you discover the rest of what Florida has to offer.
From Orlando drive west until you reach the Gulf Coast to get to Clearwater Beach. There you have everything you need for a perfect beach vacation.
B. Stunning beaches in Clearwater Beach
Driving time: 2.5 h
Distance: 118 miles (189 km)
Clearwater Beach consistently wins the title as the best beach in Florida, and even so in the entire US. It was named the best beach in the country in TripAdvisor's 2019 Travelers' Choice Awards. So it's a very good choice for a Florida road trip.
The sand on the beach is all white and fine. That it is so fine creates that special and wonderful crunch when you step on it and your feet push the sand together. And the beach is very well taken care of. It feels as clean and spotless as a beach possibly could.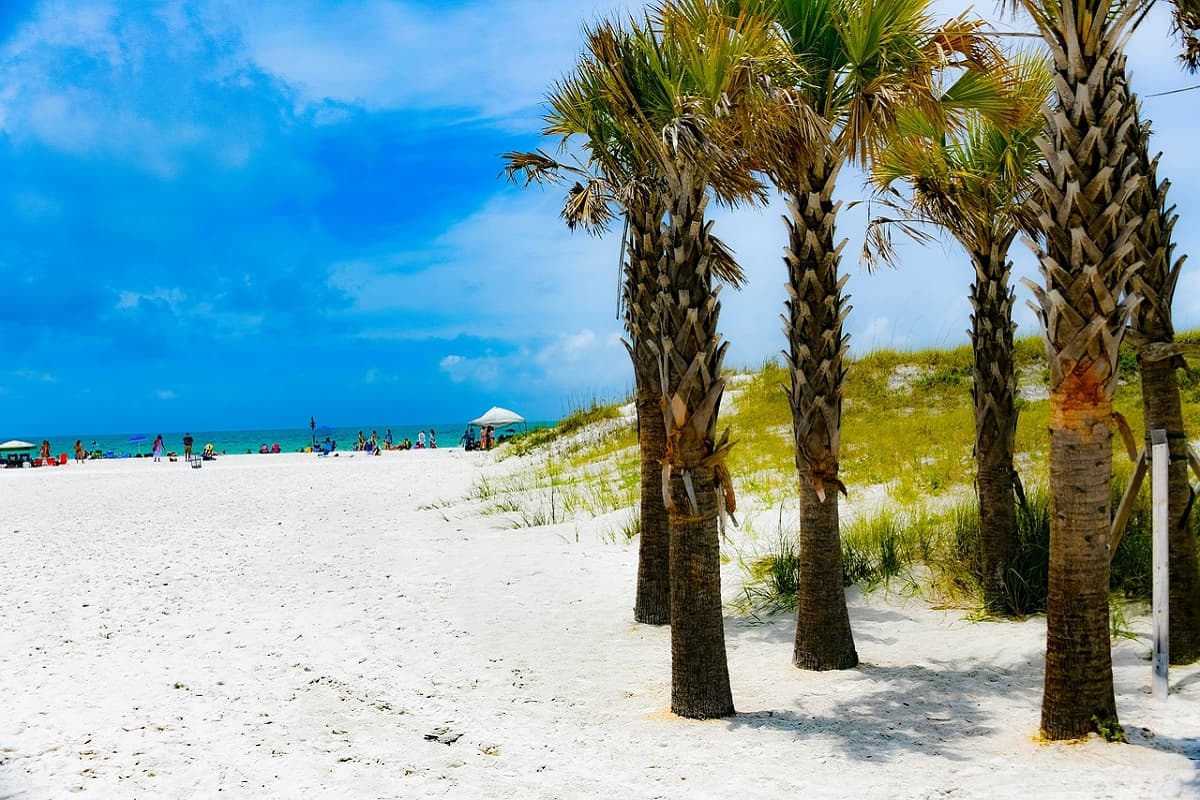 But the popularity of the beach also originates in its accessibility. Clearwater Beach is lined by a boardwalk, which makes it easy to reach your favorite spot on the beach. Especially the very hot and humid days the boardwalk is appreciated.
Sorry about the disclaimer. We just want to let you know that this site can exist thanks to advertising and including affiliate links. Read the full disclosure here.
If you want to reach the centre of activity you can just continue on the boardwalk until you reach Pier 60, which extends out into the blue Gulf of Mexico. There you except for a magnificent view also frequently find street performers, musicians and other liveliness. More often than not there is something fun going on.
Continue your trip south to Sanibel Island to reach another beach destination. But don't assume they are alike. Life on Sanibel Island is a strong contrast to Clearwater Beach.
Read more: A wonderful beachy escape to Clearwater Beach, Florida >>
C. Feel closer to nature on Sanibel Island
Driving time: 3 h
Distance: 166 miles (267 km)
The trip over the bridge to Sanibel takes you to a completely different place. It's a great place for a relaxing getaway where you get to feel closer to nature.
High rises are not allowed on the island and the tallest building is said to not be any taller then the tallest palm tree. And at night no lights should be visible from the beach because that would disturb the sea turtles. Life on Sanibel clearly is with the nature.
The island possesses 15 miles of great beaches and a wide variety of animal species. The conditions for biking are near optimal. There are 25 mile of bikes path for you to travel on.
Living side by side with nature is fantastic. But if you're in for a more lively day or night, Fort Myers Beach is just a short drive away.
Read more: Fun things to do on Sanibel Island, Florida >>
D. South Florida beach fun in Naples
Driving time: 1.5 h
Distance: 53 miles (85 km)
The beach in Naples is alone a good reason to visit. The crystal clear water, white sand and palm trees that grow near the edge of the water makes it as picturesque as beaches get.
Dolphins sightings are common from the beach. They like to play near the pier. The Naples Pier is also a beautiful spot to watch sunsets.
And Naples is so far south that winter never really gets there. Because of that Naples is great for outdoor activites even in the winter.
Read more: A dreamy vacation in Naples, Florida >>
E. Visit alligators in the Everglades
Driving time: 2 h
Distance: 87 miles (140 km)
To really understand Florida a visit to Everglades is a must. It's a subtropical wetland ecosystem that spans around two million acres in central and south Florida. In this Florida road trip you pass the Everglades when you cross the state to get to Key West. So it's convenient to spend some time there while you're in the area.
Taking an airboat tour is a great way to see the area. Usually alligators, interesting birds and lizards show themselves. Remember to bring your earplugs, the airboats could be loud.
Read more: The best way to see alligators in the Everglades, Florida >>
F. Finish the Florida road trip in the paradise Key West
Driving time: 4 h
Distance: 163 miles (262 km)
Finally you reach the end of the trip. As its the southernmost point of the continental US, it's the perfect end point to a road trip.
Key West is a tropical paradise that lives at its own pace. Life at the island is very laid back and trouble free.
You have numerous things to see and do in Key West. Hit the beach, take a boat tour and visit the Ernest Hemingway Home and Museum.
Read more: A trip to Key West, a place like no other >>
The great Florida road trip from Orlando to Key West FAQ
Here you find the answers to some frequently asked questions about the great Florida Road trip from Orlando to Key West.
How long time do you need to make the Florida road trip?
As one of the shorter road trips, with 13 h of driving, this trip could be made in just a few days. But to fully enjoy the entire itinerary it's recommended to have two weeks or more. Add more if you want more beach time!
How was the driving time calculated?
The estimation was calculated in Google Maps by taking the shortest amount of time from point A to point B and rounding upwards to the closest half hour. Pay attention to that no stops are included in the driving time.