The ultimate road trip from Orlando to Miami takes you on a superb journey along the Gulf Coast. On the itinerary from Orlando to Miami you find one jaw-dropping beach after another. As you drive between Orlando and Miami, it feels like the paradise beaches never end.
We can exist thanks to compensation from advertising including affiliate links. Learn more ›
Total distance: 474 mi / 763 km
Total driving time: 10 h
1. Orlando, FL – The road trip from Orlando to Miami begins
It's time to load up the car for the ultimate road trip from Orlando to Miami. However, don't miss out on some of the best Orlando attractions before you head down south.
Meet Mickey Mouse
Disney World in Orlando is by every measurement a huge Orlando attraction. That Disney World spans around 40 square miles makes Walt Disney World Resort almost as big as San Francisco.
The vast Disney World is home to four different theme parks. These are: Magic Kingdom, Epcot, Hollywood Studios and Animal Kingdom.
In addition the resort includes waterparks, hotels and the shopping and entertainment center Disney Springs.
With so much on offer Disney World covers every base. From the rides to the colorful characters Disney World is just filled with fun for the Orlando to Miami itinerary.
Cast a spell at Universal Studios
Universal Orlando Resort is home to thrilling attraction and rides based on popular movies. The detailed themes make you feel like you're really part of the movies featured.
There are two distinctive theme parks within the resort: Universal Studios Florida and Universal's Islands of Adventure.
In addition a waterpark, hotels and an entertainment center make the Universal experience complete.
Most famously so Universal Studios presents the Wizarding World of Harry Potter. At Diagon Alley and Hogsmeade you get to walk in the steps of Harry Potter himself.
Related: Bookmark our ultimate Florida guide too.
2. Clearwater Beach, FL – Welcome to the first of many beaches
Driving distance: 118 mi / 189 km
Driving time: 2.5 h
The beach is what most visitors come for. Clearwater's beach is 2.5 miles (4 km) long and known for its sugar-white sand. Say hello to prime beach life as you explore the best things to do in Clearwater Beach on the road trip from Orlando to Miami.
Hang out by Pier 60
Pier 60 gloriously extends 1,080 feet (329 m) out into the Mexican Gulf. It's an iconic spot for fun in the sand and sun on the Orlando to Miami road trip.
The eye-catching Pier 60 is the centerpiece of Clearwater Beach, where something fun always is going on. From tasty food options to quirky shops you have all you need within steps at the Florida landmark.
Feel in love on Honeymoon Island
Honeymoon Island is located 10 miles (16 km) by car north of Clearwater Beach. The island, which is home to Honeymoon Island State Park, offers a quiet contrast to the sometimes busy Clearwater Beach.
The beach on Honeymoon Island is as pretty as the beach in Clearwater Beach. However, on Honeymoon Island you find much fewer fellow beachgoers to share the beauty with.
Where to stay
Clearwater hotels at Pier 60 give you walking distance to the entertainment scene. The further north on the island you go, the quieter the ambience gets.
Additional stop: Do you want to break up the drive from Clearwater Beach to Sanibel Island? If so Siesta Key is as pristine as a detour gets. Siesta Key features close to 100% pure quartz sand, which makes the Florida island snow white.
3. Sanibel Island, FL – Stunning nature between Orlando and Miami
Driving distance: 166 mi / 267 km
Driving time: 3 h
From the developed Clearwater Beach the road trip from Orlando to Miami takes you to the much different Sanibel Island. It's an island where nature comes both first and second.
But you don't have to be a nature lover to enjoy Sanibel Island. The best Sanibel Island activities are for anyone who wants to recharge their batteries on the way from Orlando to Miami.
Spot colorful birds at Ding Darling
On the northern part of Sanibel Island its J.N. "Ding" Darling National Wildlife Refuge has remained entirely untouched. The sanctuary showcases a South Florida landscape without human interference.
When you visit on the drive from Orlando to Miami there's wildlife guarantee. Above all the Sanibel sanctuary is home to more than 200 bird species to spot. If you're a bird lover, welcome to heaven.
Collect shells on Lighthouse Beach
Day and night Sanibel Island's shore scoops up shells from the Gulf of Mexico. For its many shells Sanibel Island is known as the shelling capital.
When it comes to shelling, there are no better American islands than Sanibel.
All the way from Lighthouse Beach in the east to the western end of the island you find great shelling beaches. A shell from Sanibel Island is the perfect souvenir from the Orlando to Miami road trip.
Where to stay
In the Mid Island area you find the heart of Sanibel, including restaurants and shops. But no matter where you stay on Sanibel, the Gulf of Mexico is close by.
Additional stop: Make your way over to Fort Myers Beach attractions for a more lively beach experience. At Fort Myers Beach's Time Square you find shops, restaurants, bars and an in general energetic atmosphere. A Fort Myers stay is the perfect contrast to the quiet Sanibel Island as you drive from Orlando to Miami.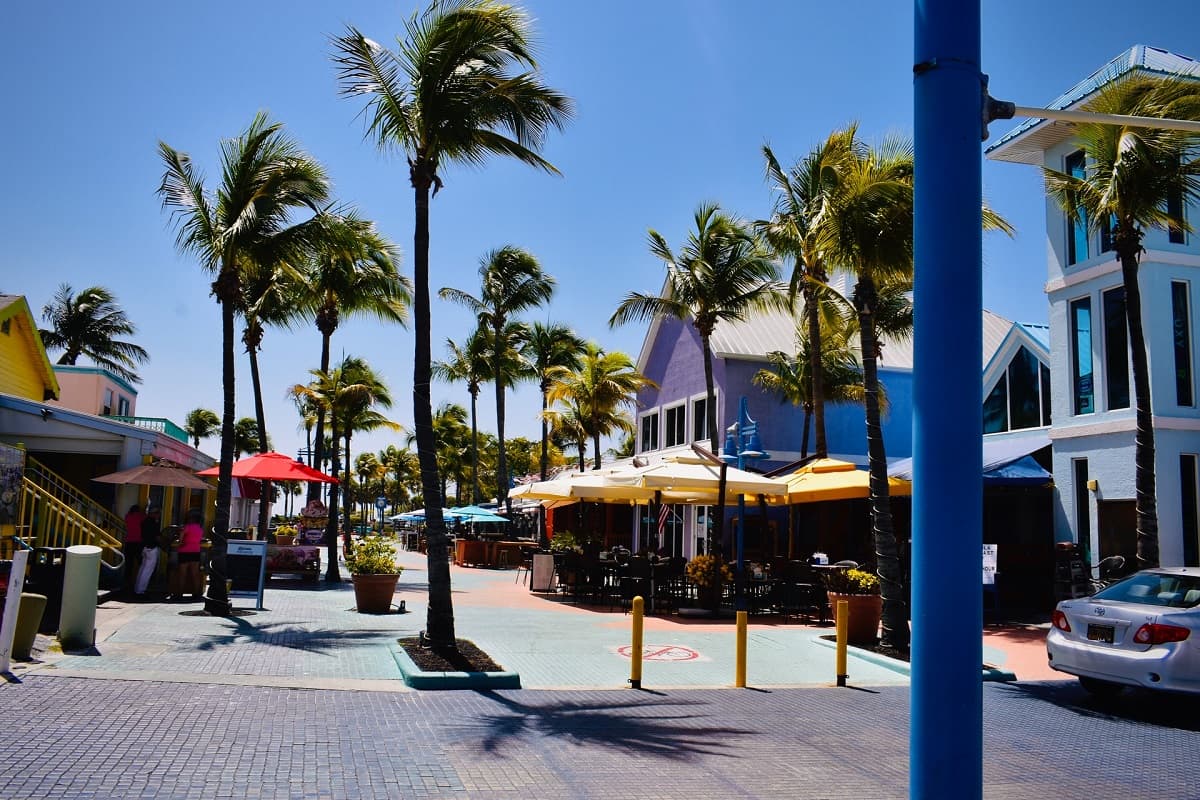 4. Naples, FL – It's time for the good life
Driving distance: 53 mi / 85 km
Driving time: 1.5 h
The fun-filled Naples is beautifully positioned on Florida's Paradise Coast. As you visit on the Orlando to Miami road trip, you get to experience the upscale ambience that the city is so famous for.
Walk Fifth Avenue South
In the downtown area of Naples, also known as Old Naples, you find Fifth Avenue South. It's a mecca for anyone who wants a slice of the good life.
Fifth Avenue South is lined by upscale restaurants, stylish boutiques and more than a few luxury cars. It's the crown jewel of Naples that is just filled with extravagancy.
Shopping or dining on Fifth Avenue South is a memorable addition to the road trip from Orlando to Miami.
However, just strolling along Fifth Avenue South is a fun thing to do. It's a pretty walk, and if you continue all the way down the road you get to Naples Beach.
Play by Naples Pier
Naples Pier, located on the picturesque Naples Beach, was built already in 1889 but dutifully guards Naples Beach to this day. The historic landmark juts out 1,000 feet (305 m) into the Gulf of Mexico.
Some things just seem to get better with age, and Naples Pier is one of them. It's one of the prettiest beach spots on the drive from Orlando to Miami.
The picturesque Naples Pier, white sand and blue water. It certainly doesn't get much better than that.
Where to stay
Naples hotels in the downtown area give you easy access to the exclusive Naples lifestyle. However, stay further from Naples' heart if you travel on a budget.
5. Marco Island, FL – More beach time on the Orlando to Miami road trip
Driving distance: 18 mi / 29 km
Driving time: 0.5 h
On the road trip from Orlando to Miami you just can't get enough of pristine beaches. Tucked away in Southwest Florida, Marco Island is another beach paradise to enjoy between Orlando and Miami.
Spend lazy days on South Marco Beach
South Marco Beach covers most of Marco Island's western shoreline. It's the biggest of the two public beaches on Marco Island.
With white sand, inviting water and warm year-round weather South Marco Beach is a quintessential Florida spot. As a bonus it's also a nice beach for some more shelling on the road trip from Orlando to Miami.
If your batteries aren't recharged yet, this is the place to finally reach 100% before the Orlando to Miami road trip turns east.
Where to stay
South Beach is the prime location for easy access to the beach. Mid Island and North End you find more hidden Marco Island accommodations a short ride from the dunes.
6. Everglades National Park, FL – The untamed side of Florida
Driving distance: 31 mi / 50 km
Driving time: 1 h
Not far from the white beaches of Marco Island the Everglades magnificently spreads out. As you drive right through the Everglades on your way east, it's an Orlando to Miami chance too good to miss out on.
Tour the wild Everglades
Everglades National Park is the only wetland of its kind in America. The South Florida symbol encompasses an impressive 1.5 million acres of pure wilderness.
Even though the Everglades is so vast, you need to park your car to fully discover it.
Uniquely so airboat tours take visitors to the heart of the huge wetland. An airboat ride offers both stunning scenery and sightings of curious locals.
The alligator is a Florida legend that often shows up. Other animals within Everglades National Park include crocodiles, manatees and a wide range of tropical birds.
Where to stay
You don't need to look past Everglades City when you look for where to stay near the Everglades. The city is positioned right where Everglades National Park begins.
7. Miami, FL – Finishing the Orlando to Miami drive
Driving distance: 88 mi / 142 km
Driving time: 1.5 h
After a spectacular journey it's time to round off the Orlando to Miami road trip. The final 88 miles (142 km) take you from Everglades City to the always vibrating Miami.
Although the road trip from Orlando to Miami is over, don't miss out on some of the best things to do in Miami.
Park your car at South Beach
Stately Art Deco architecture, swaying palm trees and fancy places to grab a bite or drink. South Beach is how you know Miami from the movies.
The neighborhood on the 9 miles (15 km) long Miami Beach island has an aura like no other place.
Its iconic Ocean Drive, filled with more exclusive cars than you can count, is an attraction on its own.
But the main South Beach attraction is the beach itself. On the Atlantic Ocean the renowned South Beach shoreline makes up an awe-inspiring final beach spot on the Orlando to Miami itinerary.
Head over to Wynwood
Do you want to finish the road trip from Orlando to Miami in colorful fashion? Then make your way to the Wynwood neighborhood.
Above all Wynwood is highly regarded for its street art. Blocks upon blocks of murals draw crowds from far and wide.
The neighborhood is like an enormous open air gallery.
Then it's all the absorbing shops, tasty restaurants and hip breweries. Many visitors come to Wynwood for the street art but return for everything else there's to discover.
Road trip from Orlando to Miami FAQ
You find the answers to some frequently asked questions about the ultimate road trip from Orlando to Miami below.
How long does it take to drive the ultimate road trip from Orlando to Miami?
The ultimate road trip from Orlando to Miami is 474 miles (763 km) long. Driving it takes about 10 hours, not including any stops along the way.
Where should I stop between Orlando and Miami?
The main stops on the ultimate Orlando to Miami drive are Clearwater Beach, Sanibel Island, Naples, Marco Island and Everglades National Park.

Additional Orlando to Miami destinations along the route include Siesta Key and Fort Myers Beach.
How many days do I need to take the road trip from Orlando to Miami?
For the complete experience it's favorable to have 10 days or more for the road trip from Orlando to Miami. If you're a beach bum, you can easily spend several weeks exploring and enjoying all the sandy Florida gems between Orlando to Miami.
Make the most of every trip with our newsletter delivered to your inbox.